THE OPENING OF THE 3RD VIETNAM INT'L SUPPORTING INDUSTRY
& MANUFACTURING EXHIBITION – VIMEXPO 2022
OPPORTUNITIES TO CONNECT AND EXPAND MARKET
           On the morning of November 16th, 2022, at Hanoi Int'l Exhibition Center, the 3rd Vietnam International Supporting Industry & Manufacturing Exhibition – VIMEXPO 2022 was officially opened. The exhibition is directed by the Ministry of Industry and Trade, hosted by the Industrial Development Center (IDC) and coordinated with C.I.S Vietnam Advertising & Exhibition JSC to organize.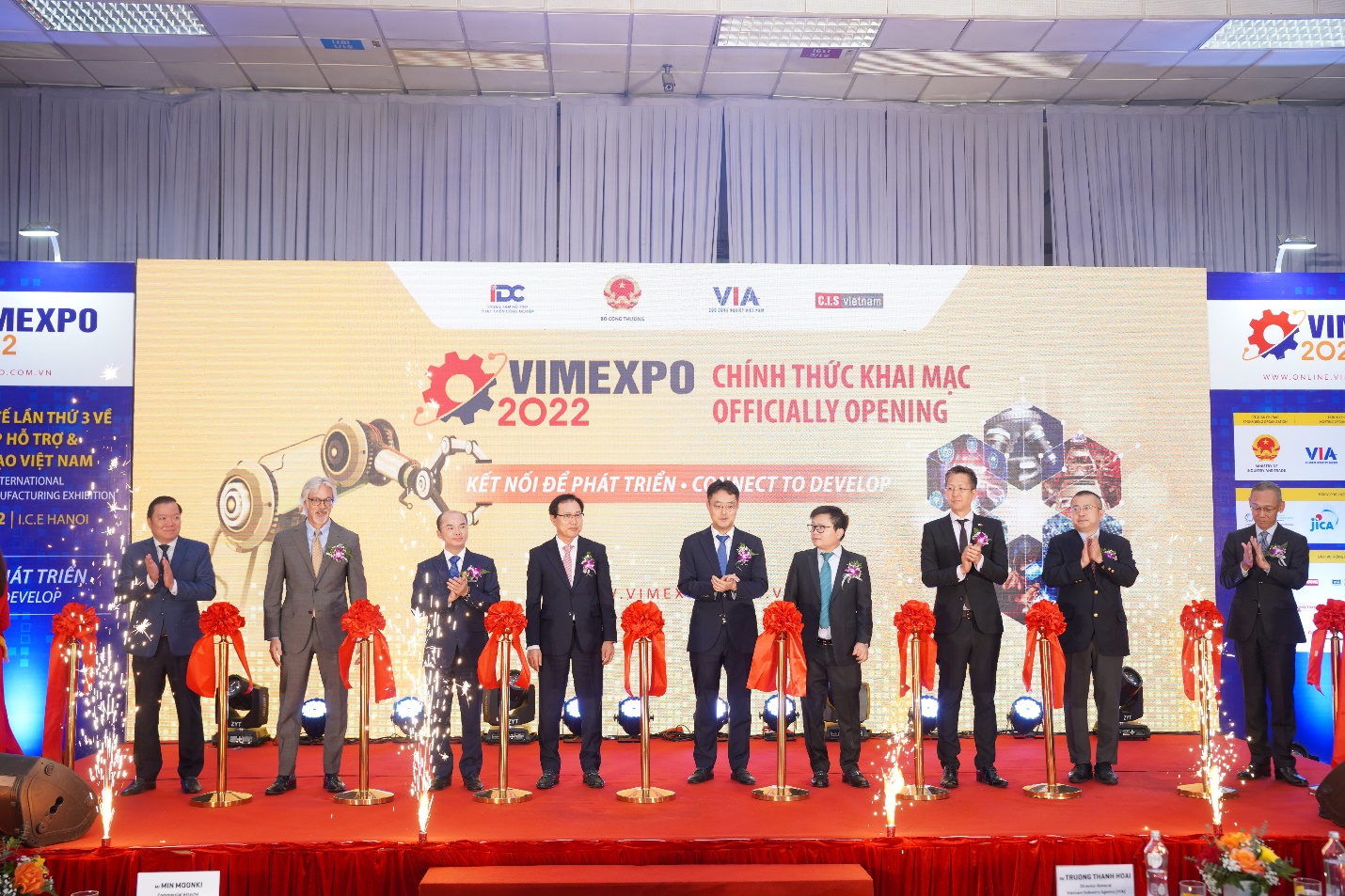 The opening ceremony was attended by Mr. Truong Thanh Hoai – Director General of Vietnam Industry Agency; Mr. Pham Tuan Anh, Deputy Director of Vietnam Industry Agency, Mr. Thomas Jacobs–Country Manager of Vietnam, Laos and Cambodia of International Finance Corporation (IFC); Mr. Min Moonki – Commercial Attaché of the Embassy of the Republic of Korea; Mr. Matsumoto Izumi – First Secretary of the Embassy of Japan; Mr. Takao Shimokawa – Director General, Economic Development Department of Japan International Cooperation Agency (JICA); Mr. Choi Joo Ho, President of Samsung Electronics Vietnam; Mr. Hiroyuki Ueda, President of Toyota Motor Vietnam, along with representatives of domestic and international agencies, organizations and associations; representatives of typical enterprises in the field of supporting and manufacturing industry.
VIMEXPO 2022 with the orientation "Connect to Develop" has been evaluated by prestigious domestic and international organizations, enterprises, and experts in the field of supporting and manufacturing industry as a favorable environment to help enterprises directly connect, search for new opportunities for cooperation, approach partners, expand markets, invest in production and business, improve competitiveness, and gradually participate in the global supply chain. VIMEXPO 2022 with the participation of more than 200 enterprises, about 300 booths displayed on an area of ​​nearly 5,000 sqm, has been affirmed to be the leading exhibition in supporting industry in Vietnam. VIMEXPO 2022 has received the companionship of typical domestic and international enterprises such as Thaco Group, Vietnam Engine and Agricultural Machinery Corporation – VEAM, Toyota Motor Vietnam, Weichai, Samsung, Toshiba Asia, Hanoi Plastic, JICA, Kyoyo, Tecotec, Intech, MEB, Yangmin, Makitech, NTT Data… and enterprises from US, Germany, Russia, Japan, Korea, China… Exhibitors will introduce typical products with competitive advantages of the supporting industry in the field of Automobile manufacturing and Assembling; Mechanical Fabrication; High-tech industry; Electronics industry and other related fields.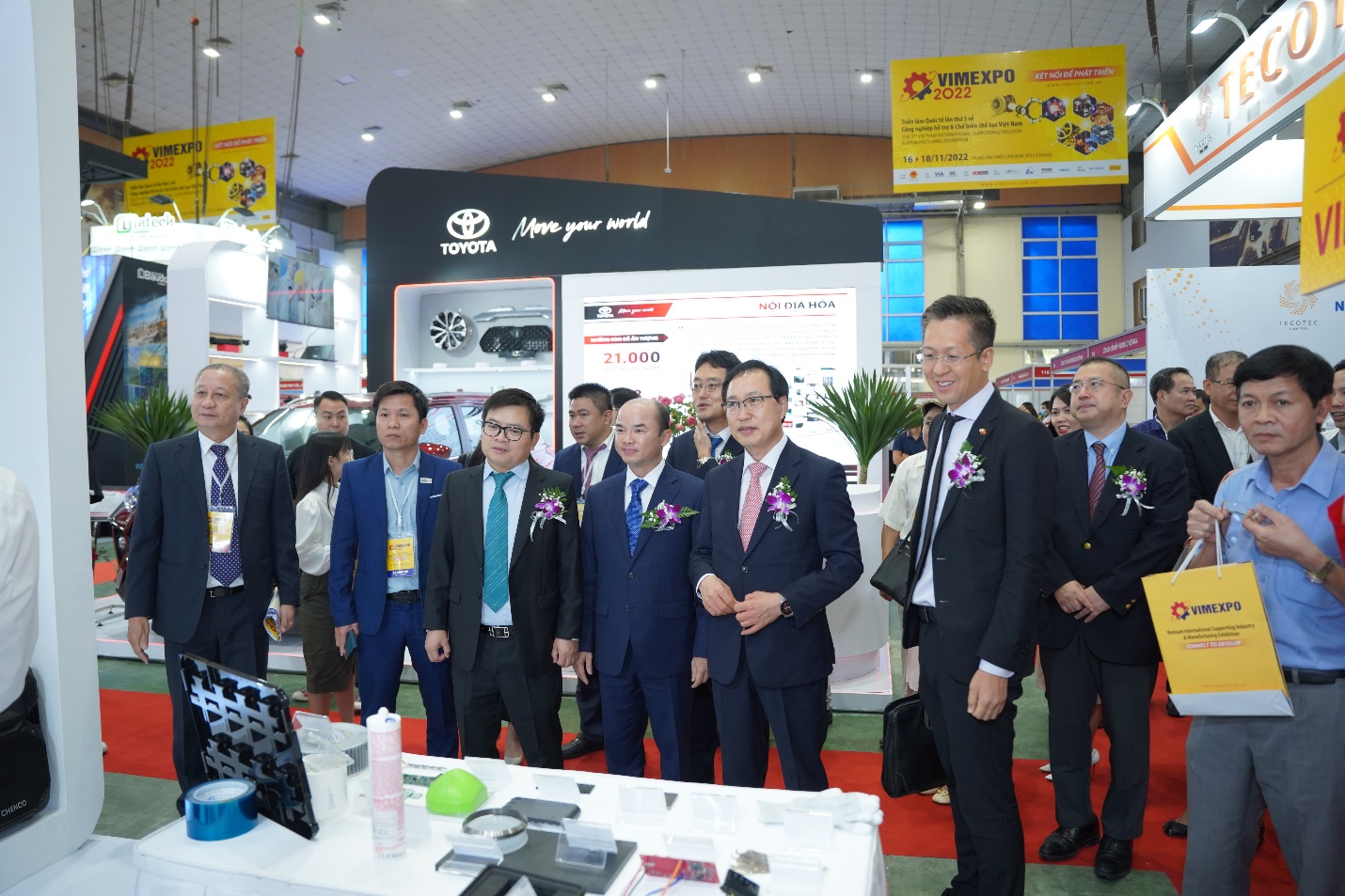 With the orientation of "Connect to Develop", during the exhibition, a series of useful events are held at the same time such as Business Matching Activities (B2B) between domestic and international supporting industry enterprises; the specialized seminar on "Digital Transformation towards Smart Manufacturing" with presentations by representatives from  International Finance Corporation (IFC) with the topic "Digital transformation and future opportunities for Vietnamese manufacturing sector in the global value chain"; Toyota Motor Vietnam with the topic "To develop supplier's capability to gradually participate into the supply chain of auto industry in Vietnam"; Samsung Electronics Vietnam with the topic "Middle and long-term supporting strategy for Vietnam supporting industry with MOIT"; and distinguished speaker from Malaysia with the speech on "Sharing experiences of Digital transformation in manufacturing from Malaysia".
            With the orientation of "Connect to Develop", VIMEXPO 2022 will be the bridge to help Vietnamese supporting industry enterprises participate more deeply in the global production chain and continue to affirm the role as the leading prestigious event of supporting industry and manufacturing in Vietnam. During the three days of exhibition, VIMEXPO 2022 is expected to attract about 15,000 visitors to visit and work directly.