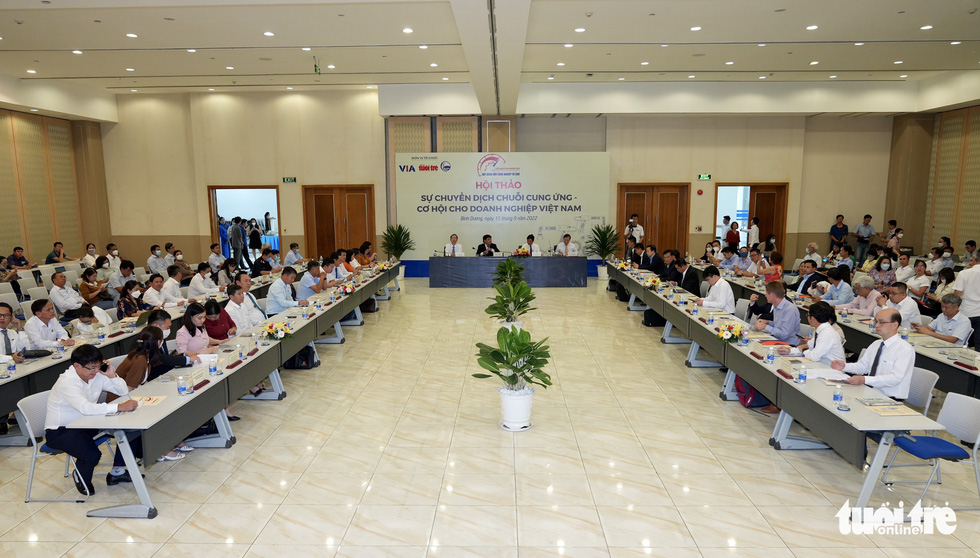 The seminar was attended by more than 250 guests, who are leaders of the Industry Agency under the Ministry of Industry and Trade, localities in the south including Ho Chi Minh City, Binh Duong, Dong Nai, Ba Ria-Vung Tau, and Tay Ninh, associations, and enterprises, as well as local and foreign experts. Photo: Huu Hanh / Tuoi Tre
The global supply chain shifts during the post-pandemic period and shifting global relations have opened up great opportunities for Vietnam and its enterprises to take part in global supply chains, experts, delegates, and enterprises' representatives said at a seminar held in Binh Duong Province on Thursday last week.
In his opening remarks at the seminar 'The shift of supply chains – opportunities for Vietnamese enterprises' jointly held by Tuoi Tre (Youth) newspaper, the Industry Agency under the Ministry of Industry and Trade, and the Binh Duong People's Committee, Le The Chu, editor-in-chief of Tuoi Tre, affirmed that opportunities for Vietnamese businesses to participate in global supply chains are marvelous, reflected through real stories.
In particular, a world-class bank visited a factory of a Vietnamese supporting industry firm and spoke highly of its modern and automated production line.
In addition, during a visit to a mechanics and supporting industry factory of THACO Industries early last month, a delegation of a large Australian firm was surprised at the Vietnamese firm's plants and offices, which are operated as professionally as Australian ones.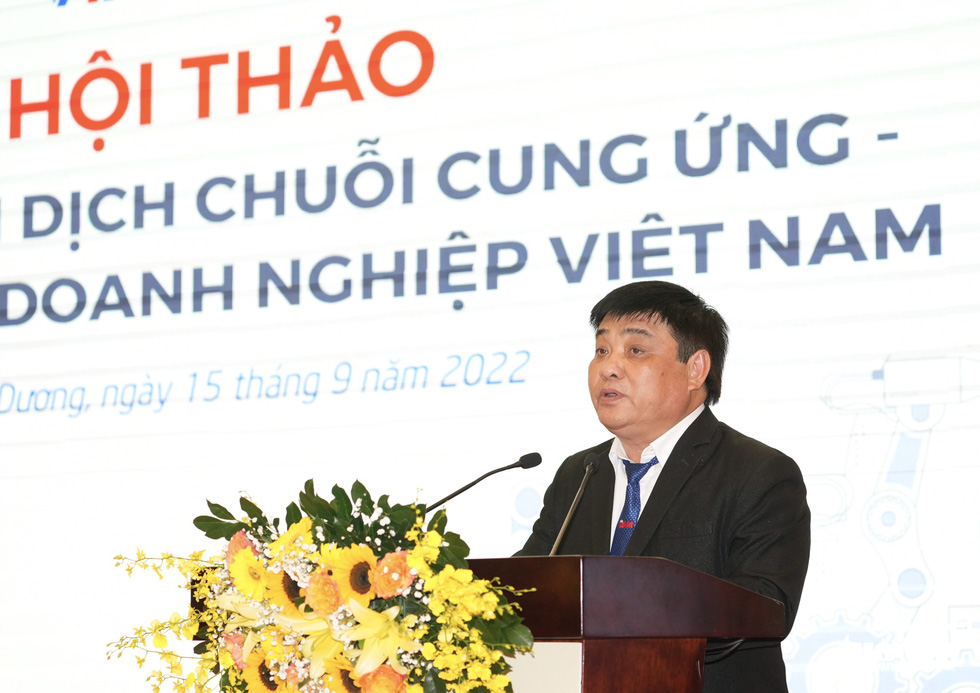 Recently, many multinational groups have enhanced their investment in Vietnam.
As a case in point, Apple shifted 11 factories of the Taiwanese companies which are part of its supply chain to Vietnam.
Moreover, Denmark's Lego Group launched a US$1-billion factory in Binh Duong Province.
Multinational group Techtronic Industries, which specializes in electrical devices and household appliances with 12 factories worldwide and 76 percent of its products being supplied to the U.S. and Northern Europe, started an investment project worth $650 million at the Saigon Hi-Tech Park in Ho Chi Minh City.
Many other foreign direct investment firms, such as Foxconn, Luxshare, Pegatron, and Wistron, have also expanded their operations in Vietnam.
Additionally, Japanese enterprises expressed their keen interest in expanding production in Vietnam, even during the COVID-19 pandemic.
However, most Vietnamese industrial businesses are small- and medium-sized with weak competitiveness in quality, stability, and prices.
Vietnam currently has around 2,000 enterprises producing spare parts and accessories, with 300 of them involved in supply chains.
"From stories shared at the forum 'Building Independent Industries 2022,' executors found that many factors are needed, including wise policies, solid steps in investment and production, enterprises' quick grasp of opportunities, and the support of experts and laborers, so that supporting industries will become a driving force for economic development," Chu stressed.
According to chairman of the Binh Duong People's Committee Vo Van Minh, in order to back supporting industry enterprises and embrace the shift of global supply chains, the province will develop scientific and technological industrial parks and policies to encourage innovations through a 'smart city' project.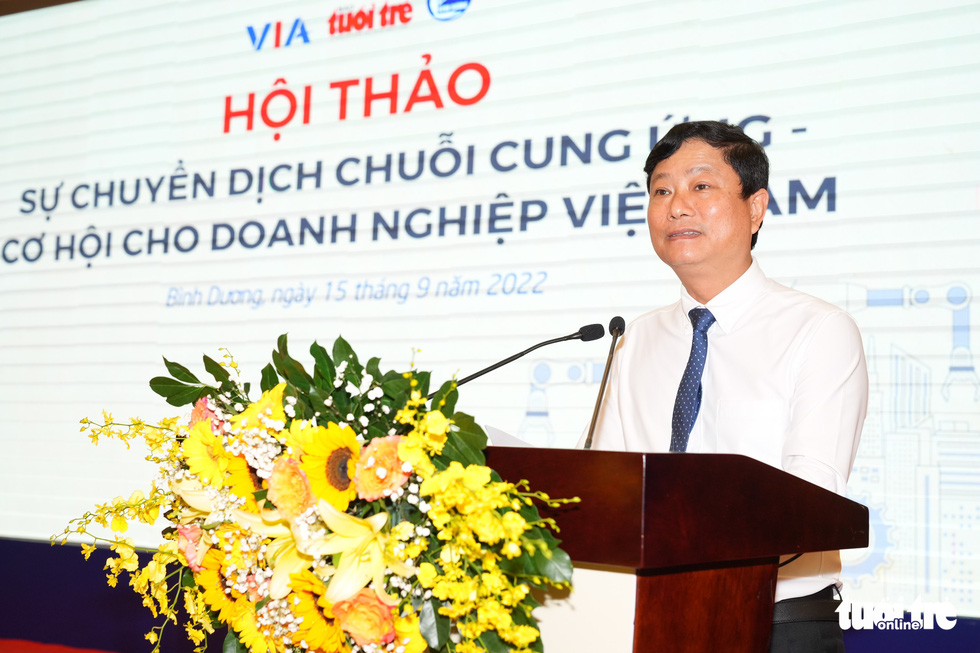 Binh Duong has strengthened the attraction of investment, prioritizing hi-tech projects, Minh said, adding that the province has attracted many large projects of both domestic and foreign investors, contributing significantly to the province's socio-economic development.
However, sharing the country's situation, enterprises in the province still depend on imported materials.
The impact of the COVID-19 pandemic and the global situation worsened the material shortage in many sectors.
Binh Duong is currently home to about 2,300 enterprises operating in supporting industries, but they only meet part of the demand.
Sharing the same view about the global supply chain shifts, Phil Kyun Choi, director of South Korean business development in Vietnam, said that supply chains are shifting from China to other countries, such as Indonesia, the Philippines, and Vietnam.
For example, Samsung has a parts factory in Vietnam, which manufactures 60 percent of its globally-sold products.
Foreign-invested companies in China did not take the relocation to other countries into their consideration even during the U.S.-China trade war, but they have sought an alternative solution since the launch of the zero-COVID policy and the lockdown in Shanghai.
"Vietnam is a choice. Nevertheless, these businesses are weighing many aspects before shifting their business from China to other countries," Phil said.
Vietnam's manpower is competitive in terms of quality but less competitive in quantity.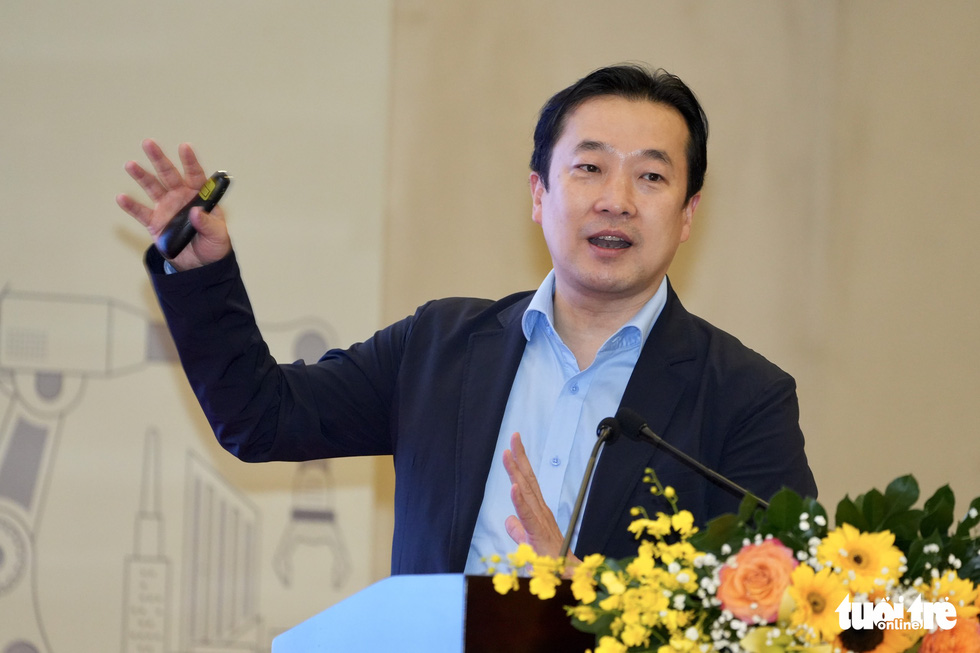 Phil Kyun Choi, director of South Korean business development in Vietnam. Photo: Huu Hanh / Tuoi Tre
In other words, Vietnam's population of nearly 100 million people is much smaller than the 1.4 billion people each in China and India and 280 million people in Indonesia.
Moreover, Vietnam's supporting industries and logistics costs are not competitive, the South Korean expert added.
The seminar is part of the forum 'Building Independent Industries 2022' initiated by Tuoi Tre in July 2022, following the Vietnam Supporting Industry Forum 2019 jointly held by the newspaper and the Industry Agency.
The forum 'Building Independent Industries 2022' focuses on seeking solutions to remove obstacles in a bid to develop the mechanical engineering sector and supporting industries, as well as connecting enterprises, regions and industrial clusters, contributing to developing Vietnam's self-reliant industry.