Cordially to: Distinguished Partners and Customers,
Facing the complicated developments of the Covid-19 pandemic in Vietnam and around the world, the Organizing Board of VIMEXPO 2021, including Industrial Development Center – Vietnam Industry Agency and C.I.S Vietnam Advertising & Exhibition JSC, after careful consideration, have decided to change the time of organizing VIMEXPO 2021, which was originally planned to take place from 27th – 29th October, 2021. The exhibition is now rescheduled from 15th – 17th December, 2021 at Hanoi International Exhibition Center – I.C.E Hanoi.
Currently, we are still closely monitoring the developments of the pandemic and have also received many opinions from exhibitors and visitors about the organization of the exhibition. They all expressed concern about health safety issues, travel restrictions, and restrictions on organizing events with large crowds. After consulting relevant authorities, organizations and from the results of the survey on exhibitors' opinions, which showed that 90% of the exhibitors would like to postpone VIMEXPO 2021 to a later time at the end of the year, the Organizing Board has reached a decision that VIMEXPO 2021 will now be rescheduled.
The postponement of VIMEXPO 2021 to December 2021 will help the Organizing Board and exhibitors feel more secure about ensuring health safety for all members of exhibitors and visitors, as well as maximizing business opportunities for all parties, ensuring the successful organization of VIMEXPO 2021.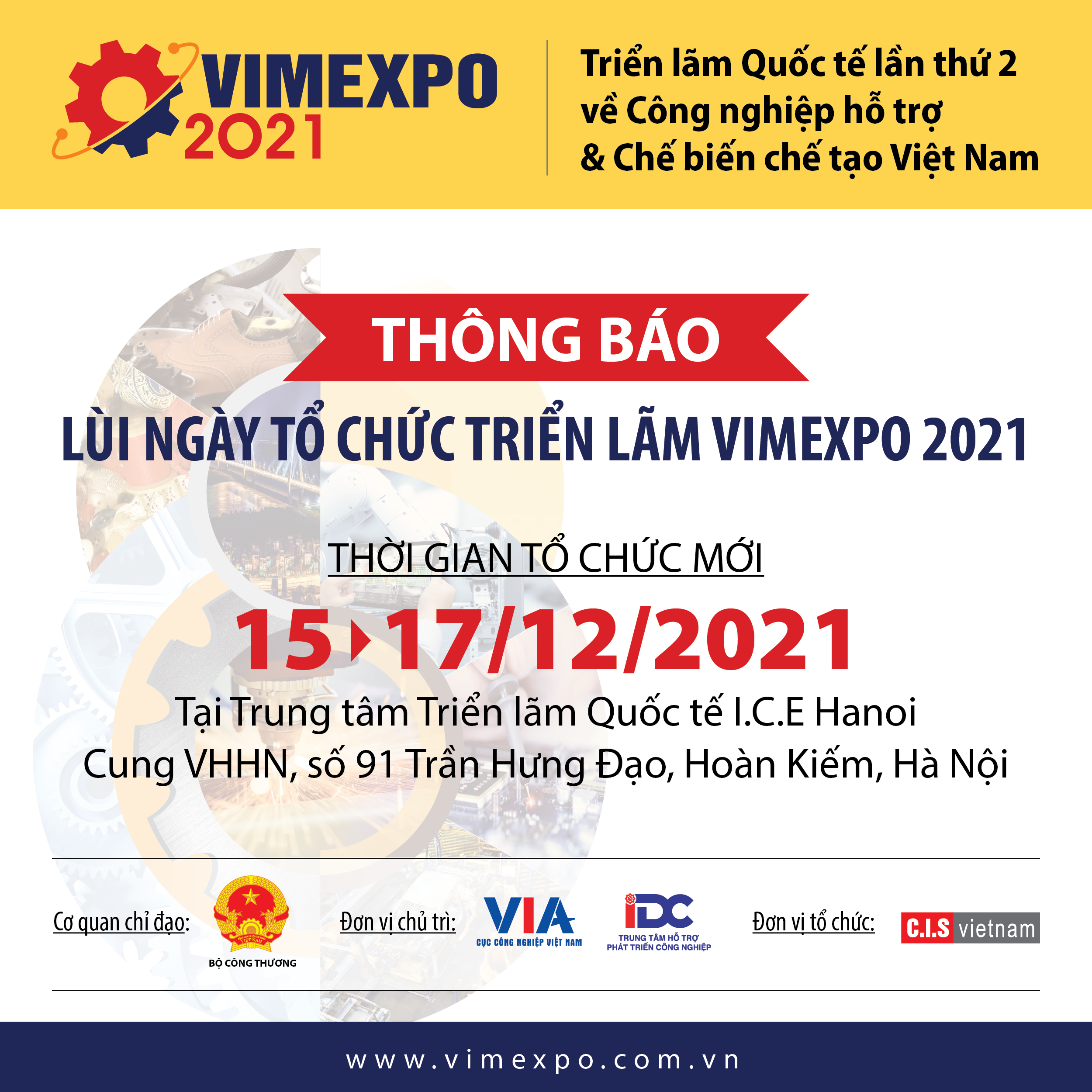 We are looking forward to welcoming you at VIMEXPO 2021 in December 2021.
*Regarding pre-registered visitors, we will contact you as soon as possible to inform you of relevant information according to the new schedule!
Best regards!
The Organizing Board of VIMEXPO 2021