Vietnam's automobile industry is transforming drastically but it still lacks scenarios to join the global supply chains after the COVID-19 pandemic.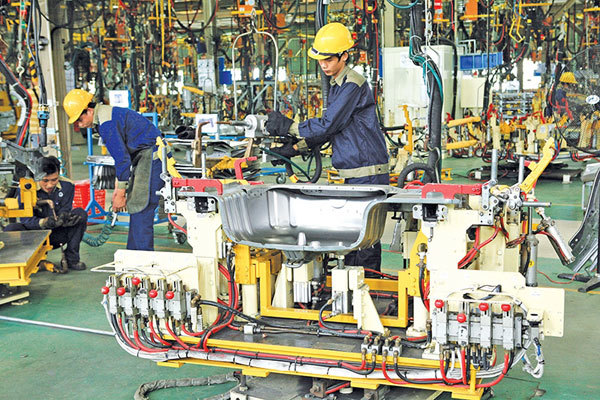 The lack of consistent policies harms Vietnam's automobile industry in the eyes of overseas players, Photo: Duc Thanh
Truong Hai Auto Corporation (THACO) has told VIR of its wide range of new policies to boost sales and increase exports to mitigate the effects of the pandemic. Its strategy is centred on producing spare parts and exporting completely-built units while using the domestic market as a base for exports.
"THACO has consistently maintained its leading position in the automobile market since the beginning of 2020. In July, THACO accounted for 31.1 per cent of the automobile market share," said the carmaker's general director Pham Van Tai.
As of last month, THACO has exported 200 Kia Grand Carnival cars (known as Kia Sedona in Vietnam) to Thailand, 280 Kia Cerato and Soluto vehicles to Myanmar, and 69 semi-trailers to the United States. "By the end of 2020, THACO will export more than 1,400 cars of all kinds, while expanding its reach to other markets," Tai said.
THACO is now diversifying its strategy to seek growth in new landscapes – something Vietnam's entire automobile industry is working on.
In particular, Vietnam aims to develop the automobile industry and become a regional hub. However, it is difficult for foreign investors to develop large-scale projects in Vietnam as the scale of the domestic market is about one-tenth of Thailand and one-fifth of Indonesia, according to the Ministry of Industry and Trade (MoIT).
With over 20 companies and 40 car brands, Vietnam's automobile industry remains limited with an annual capacity of 500,000 vehicles, 47 per cent of which are built by foreign companies. The domestic automobile industry has about 170 manufacturing and assembling companies, mostly of small and medium size.
According to the MoIT, trucks and special-use vehicles have the highest localisation rate of 50 per cent. At present, THACO has achieved a rate of 40-45 per cent for trucks and 60 per cent for buses, meeting the Ministry of Science and Technology regulations for Made-in-Vietnam products.
Vietnam aimed to achieve 60 per cent localisation ratio for cars with less than nine seats in 2010. However, as of present, the ratio is just around 10 per cent, except for THACO with 15-20 per cent and 37 per cent for Toyota Vietnam's Innova model.
Cars assembled and produced in Vietnam generally cost 20 per cent more than in Thailand and Indonesia because a large number of parts have to be imported. It is estimated that production costs for a B-segment compact car in Vietnam is $6,000 higher than in Malaysia.
Also, passenger cars manufactured in Vietnam have yet to reach the localisation rate of 40 per cent to enjoy a zero per cent preferential import tax under the ASEAN Trade in Goods Agreement (ATIGA).

Development plan of Vietnam's automobile industry with vision to 2030
– Estimated proportion of the number of vehicles assembled or manufactured locally compared with total domestic demand: 18 per cent of special-use vehicles, 78 per cent of trucks, and 92 per cent of cars with more than 10 seats by 2025. In 2030, the proportions will be 20, 80, and 92 per cent, respectively.
– Expected output of cars with up to nine seats, cars with more than 10 seats, and trucks and special-use vehicles is 237,000; 29,102; 197,017; and 2,356 units by the end of 2020.
– By the end of 2020, the supporting industry for automobile manufacturing was aimed to be established. Vietnam will strive to meet 30-40 per cent of the value of spare parts and components needed for domestic manufacturing and assembly of automobiles, fabrication of important parts of actuators, gearboxes, and engines (especially for passenger cars and light trucks), and the country will gradually be involved in the global supply chain of components and spare parts.
– In the 2026-2030 period, the supporting industry shall develop both in scale of output and number of product categories, ensuring the supply of more than 50 per cent of the value of spare parts and components needed for domestic manufacturing and assembly of automobiles. Vietnam will strive to become an important supplier of a number of components and spare parts for the regional and global automobile industry.
Switching import sources
A report from the Vietnam Business Forum stated that domestic carmakers are facing challenges due to the small scale and limited supporting industry, having to import components for assembly.
Meanwhile, localised parts are mostly of low-tech products such as tyres, seats, mirrors, glass, cable harnesses, batteries, and plastic products. About 80-90 per cent of the main raw materials used to manufacture components are still imported. As a result, this incurs higher expenses for shipping, packaging, and import duties.
The Vietnamese automobile market exceeded a record 400,000 new vehicles – 302,000 passenger cars and 80,000 commercial vehicles – in 2019. Of these, 70 per cent were completely knocked-down (CKD) units and 30 per cent of completely built-up (CBU) cars. Imports from Thailand and Indonesia accounted for 90 per cent.
Since 2018, local assemblers of CKD vehicles have been switching to importing CBUs from ASEAN to avail of the benefits of the ATIGA. Vietnam's automobile sector is less attractive for foreign investors than regional peers due to inconsistent policies as well as a lack of incentives and local suppliers.
Vietnam remains a major import market for European car brands in ASEAN. However, recent local regulations prevent foreign-owned carmakers from proceeding to import for export or transshipment, specifically Decree No.69/2018/ND-CP, which restricts them from proceeding with trans-shipments from the same customs checkpoint.
Decree No.74/2018/ND-CP, meanwhile, further complicates trade by requesting vehicle imports for exportation to proceed in Vietnam to basic homologation without local tests even though those vehicles are not intended for use in Vietnam. Vehicle importers with a valid business licence already including transshipment can only proceed until the expiration of their business licences as per Decree 69. However, transshipments of vehicles must now take place within 30 days.
In fact, among 19 European auto brands in Vietnam, one importer has completely stopped operations while other brands have changed official importers. The proportion of CBU vehicles imported from the EU dropped from 10 to 4 per cent between 2017 and 2019.
However, it is worth noting that CBU vehicles from the EU will have 3-3.7 times higher tax contribution compared with imports from ASEAN of the same value which have been exempted from import tariffs.

According to the General Department of Vietnam Customs, Vietnam imported nearly 53,000 CBU vehicles worth over $1.2 billion in the first eight months, down 44.3 per cent in volume and 43.7 per cent in value. This is the second consecutive month that the country saw increasing CBU imports. In July, Vietnam spent $104 million on importing 4,000 CBU units, up 12.6 per cent in volume and 6.3 per cent in value compared to June.
Making positive advances
Vietnam is committed to the facilitation and effective control of transhipment operations and transit movements through its territory, according to Article 4.6 on Transit and Transshipment of Chapter 4 of the EU Vietnam Free Trade Agreement (EVFTA) on Customs and Trade Facilitation.
According to the European Chamber of Commerce in Vietnam, foreign-invested companies in the automobile sector should be allowed to undertake transshipment without restrictions. Transshipment should continue to be allowed from the customs entry point so that vehicles arriving to Vietnam by boat should be allowed to transship by truck or boat to their final destination. Multimodal transport to transship or export to landlocked Laos or Cambodia by truck or boat should also be allowed with no restriction.
Although Vietnam's market scale is not large enough to join the regional supply chain, the local supporting industry has made some strides. As of present, car companies under An Phat Holdings have landed many orders to supply components worth millions of US dollars.
Man Chi Trung, deputy director of Hanoi Plastics JSC and general director of VinFast-An Phat Plastic Auto Part Co., Ltd. (VAPA) said that Hanoi Plastics has been a subsidiary of An Phat Holdings since 2013. The company has signed contracts to provide three plastic parts for the body and doors of Toyota and Honda Vietnam vehicles. The partnership has been blossoming recently as Hanoi Plastics now provides 45 plastic parts for the latest models of Toyota Vietnam and 11 plastics parts for Honda Vietnam.
An Phat Holdings also teamed up with Vietnamese automaker VinFast to develop the 50:50 joint venture VAPA to provide components for VinFast vehicles. VIR
Hai Van