On the morning of May 22, 2023, at the Industrial Development Support Center (IDC Center) under the Industrial Department (Ministry of Industry and Trade), the Opening Ceremony of the mold engineer training course under the project "Supporting training to improve the quality of engineers designing, manufacturing and producing molds in the field of Supporting Industry and Processing and Manufacturing Industry" under the Supporting Industry Development Program in 2023.
Speaking at the Opening Ceremony, Mr. Truong Thanh Hoai – Director of the Industrial Department said : "Currently, in our country, the supporting industry and processing and manufacturing industry are of special attention and development by the Party and the Government. In the field of mechanical engineering, the field of mold manufacturing is one of the especially important manufacturing industries, considered as the "foundation of the industry", which is developing in the direction of focusing on investment and technology development. With the ability to create products in large quantities, short lead times, and high levels of stability, mold products are indispensable tools in many industries, from household appliances to modern aviation and electronics products."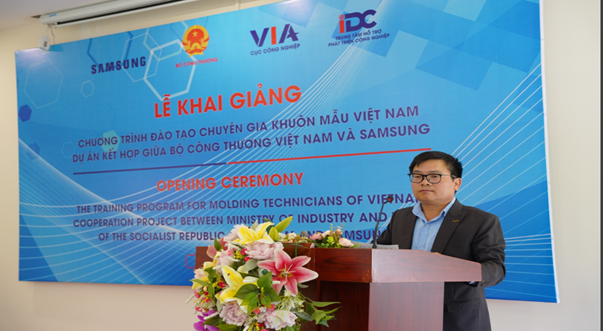 Mr. Truong Thanh Hoai – Director of Industrial Department
The program was implemented in 2020 and 2022 with 103 trainees training for 10 weeks in Hanoi and Ho Chi Minh City, and 48 trainees completing 4-week practical training at the Korean Mold Training Center after completing 10 weeks in Vietnam.
Mr. Kim Tea Hoon – Deputy General Director of the Shopping Center, Samsung Electronics Vietnam shared: "The mold industry is the core technology that determines the quality of the finished product. It can be said that the development of mold technology and the training of good mold workers are directly related to the competitiveness of the national component manufacturing industry."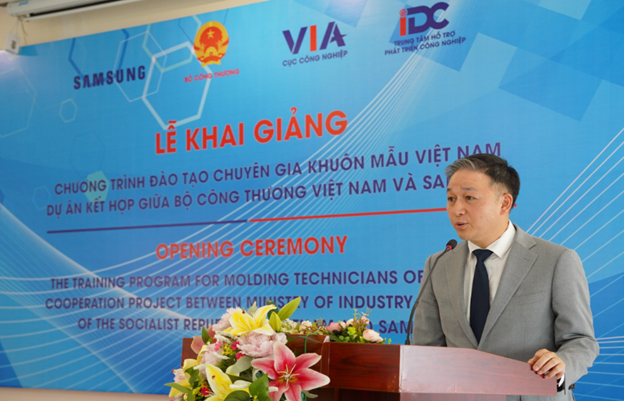 Mr. Kim Tea Hoon – Deputy General Director of Shopping Center, Samsung Electronics Vietnam
Samsung also pledged to make every effort to be able to finish the training successfully.
Also at the ceremony, expert representative from Korea, Mr. Kim Sangyul, said: " The professors will instruct us to teach the students with all our efforts and enthusiasm, will discuss with all students about the lesson, so I hope you will also participate in the class in a positive way."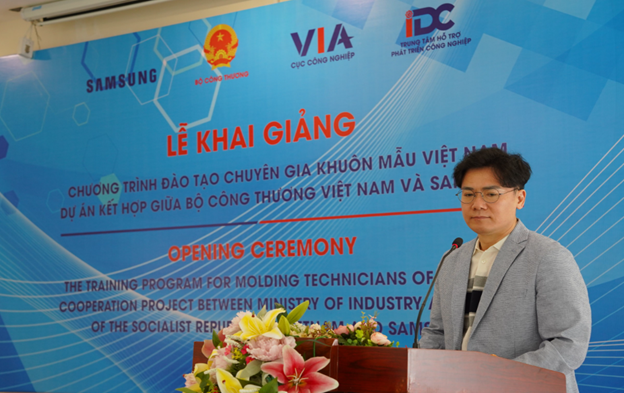 Mr. Kim Sangyul – Korea expert, Samsung Electronics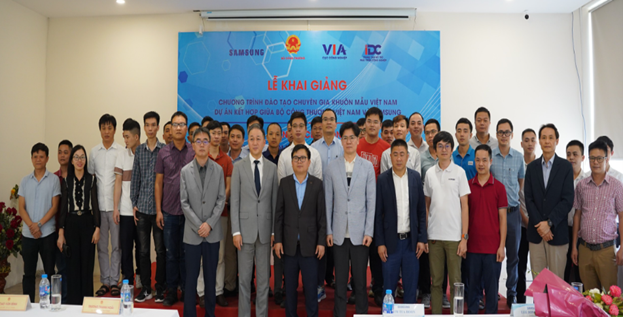 Delegates and technicians take part in a souvenir photography course
Following the success of the training course in 2020 and 2022 according to the Memorandum of Understanding between the Ministry of Industry and Trade and Samsung Electronics Vietnam Co., Ltd. dated October 22, 2019 on the training program for mold technicians of Vietnam, this year's training course will take place in 10 weeks of integrated theoretical and practical knowledge. The course is implemented methodically, bringing a lot of in-depth knowledge, equipping with many new technologies and solutions to help students in the process of working at the enterprise as well as increasing the capacity to improve and develop molds for different applications and different conditions./.