Developing the country's mechanical industry sector is a top priority for Việt Nam in the coming decades, said industry insiders and experts.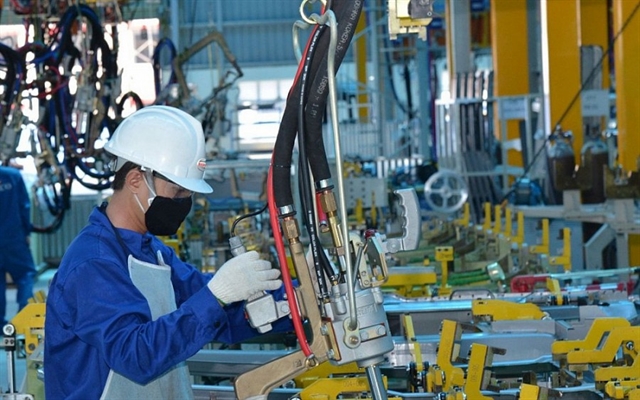 A worker at a factory in the southern province of Đồng Nai. VNA/VNS Photo
HÀ NỘI Developing the country's mechanical industry sector is a top priority for Việt Nam in the coming decades, said industry insiders and experts.
While the sector's technical capacity has made leaps and bounds in recent years, gradually becoming a major supplier for highly advanced domestic industries, a key issue remained as it has not been able to utilise economies of scale to bring down costs and further integrate into the global supply chain.
Đỗ Quang Hòa, leader of a mechanic team in one of many factories located in the northern industrial hub of Bắc Ninh Province said his company's biggest fear is not having enough work.
It usually takes a huge amount of investment to build a factory, set up machines, and train skilled mechanics, he said. Not having enough work makes everything expensive for the company and hurts its ability to compete in the market.
In addition, small and medium-sized companies such as Hòa's were almost entirely dependent on larger companies. It has resulted, according to him, in mechanical firms willing to sell at lower-than-cost prices just to maintain production.
He said it's likely the single most important hurdle to overcome for hundreds of mechanical companies in Việt Nam, holding them back from reaching their full potential.
Hòa's opinions echoed a report on the sector by the Ministry of Industry and Trade last year, in which the ministry highlighted major barriers to overcome for mechanical firms including higher set-up costs, longer cashflow cycles, advanced technologies, and very high cost of training.
In addition, the sector's products were typically difficult to sell compared to consumer products. The difficult environment resulted in just a handful of Vietnamese brands, which were mostly small-to-medium in size, unable to compete with larger international brands even with home-ground advantages.
The ministry said the sector's major weaknesses were subpar product quality and a lack of core technologies. In the absence of large mechanical firms, capable of leading and improving the industry's standards, Vietnamese firms have been falling behind in the research and development game, leaving them entirely dependent on foreign inventions and technologies.
According to the ministry, the country's domestic mechanical firms only accounted for 32 per cent of Việt Nam's market share. In addition, they accounted for even less share in the sector's output value at just 18 per cent and declining by the year, showing major shortcomings and limitations in their operations.
To add insult to injury, the government has been slow, or inefficient, in implementing support policies to speed up the industry's growth, according to the Vietnam Association of Mechanical Industry (VAMI).
VAMI urged the government to play a more active role in supporting Vietnamese firms including lowering the barrier of entry to participate in domestic projects and setting a quota for made-in-Vietnam products, to be used in such projects.
"We have observed a lack of collaboration and connection among governmental ministries, science and technology institutes, and universities in training a skilled workforce for the sector." said a spokesperson from VAMI.
The association said while many State-owned companies enjoy key advantages such as infrastructure, financial capital and skilled workers, management has often been found inadequate, causing waste and inefficiencies.
Meanwhile, private-sector companies lacked a clear development path and often failed to communicate or collaborate with their peers, leading to several firms investing in producing the same products, with little added value to compete with imported rivals.
Huỳnh Quang Nhung, deputy director-general of THACO Industries, one of the country's leading mechanical companies, said most Vietnamese firms have not met the standards to supply parts to major manufacturers operating in Việt Nam.
"Our approach to solving this issue is to actively seek capable partners, which allows us to not have to invest in parts they can already make. Our job is to build a strong brand, find new markets and come back to work together with them to grow." Nhung said. VNS