Developing support industries for automobiles remained a key priority to improve efficiency and cut down costs, said industry leaders and policymakers in an automobile conference held in Hà Nội recently.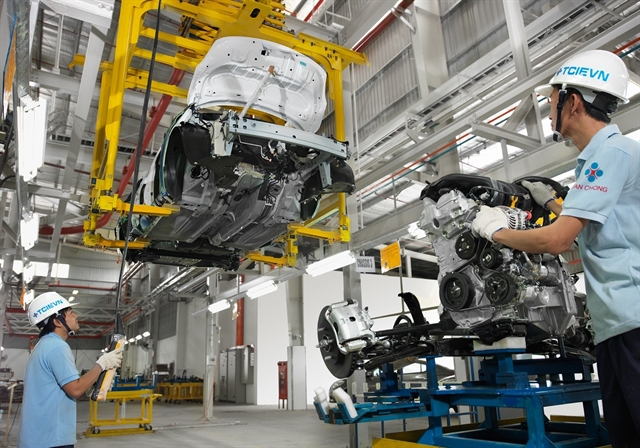 Workers at a car assembly line at a factory in the central city of Đà Nẵng. VGP Photo
HÀ NỘI  — Developing support industries for automobiles remained a key priority to improve efficiency and cut costs, said industry leaders and policymakers during an automobile conference held in Hà Nội recently.
There was an urgent need to start upgrading the sector as soon as possible, according to industry experts, especially as demand has shown signs of dwindling in recent times. A report by the Vietnam Association for Supporting Industries (VASI) said demand for automobiles dropped by as much as 60 per cent in January 2023 compared to the same period last year.
"Demand for automobiles in the domestic market has not managed to break 500,000 vehicles per year with most of their components typically imported. This has significantly hampered the development of domestic supporting industries," said Phan Đăng Tuất, Chairman of VASI.
Another major issue was technological shortcomings and limitations of the supply chain, which often put automobile manufacturers on the back foot as they were not able to rely on domestic suppliers for parts, he said.
Tuất said by the end of this year, Việt Nam is expected to have a mere 38 suppliers certified by the International Automotive Task Force (IATF), a very small number and not anywhere near enough to sustain the long-term development of the industries.
He said government support policies should play a key role in setting the foundation and jumpstarting the development of supporting industries, citing successful examples set by the Japanese and South Korean governments in the early 20th century.
Meanwhile, there has not been a concrete effort to establish a strong support base for the sector in Việt Nam since its debut 30 years ago.
"It has, in many ways, hindered the development of a key sector of the economy," he said.
As manufacturers continued to expand production in Việt Nam, the sector is not without opportunities for growth, said industry experts.
There have been numerous programmes set up by the manufacturers, with help from the Ministry of Industry and Trade, to assist domestic players, in the hope to integrate them into the supply chain.
Said programmes have managed moderate success in supporting a number of domestic producers to access quality training, and improve workers' skills and technology transfers, said a representative from the ministry.
"There have been more domestic producers involved in the production of high-value components in the supply chain, most notably electrical parts and software, in recent years," said Nguyễn Thanh Đàm, Chairman of the Viet Nam Automotive Service Technology Group.
Đàm said the HCM City Automechanika 2023, which is set to take place in June this year, is an excellent opportunity for Vietnamese businesses to showcase their products and connect with potential partners and customers.
Nearly 400 parts producers and automobile manufacturers from 16 countries and territories across the world have signed up for the event. VNS