Many high-tech industrial parks have been formed with modern lines to meet domestic and international production needs.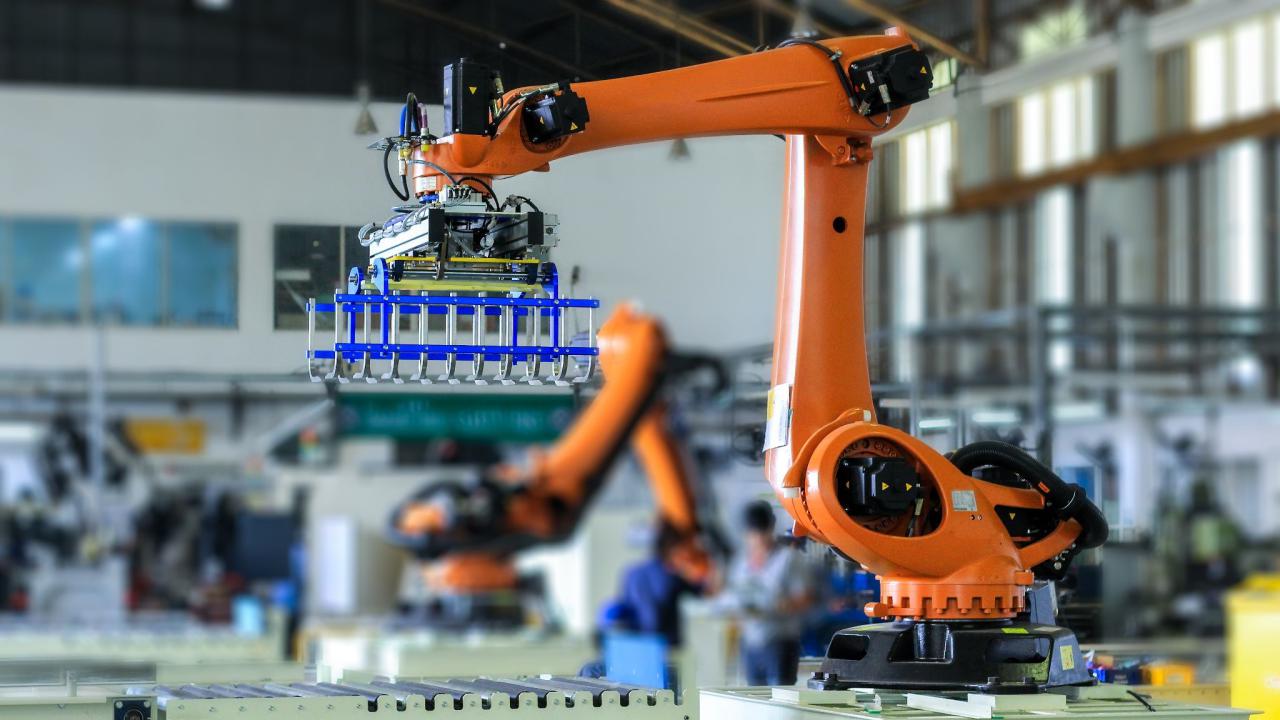 Sweet fruits brought from the promotion of high-tech industrial chains.
As a manufacturer of barcode readers with 100% foreign investment, Datalogic Vietnam Co., Ltd. located in Ho Chi Minh City Hi-Tech Park has focused on investing in automation production lines, flexible application of high technology in the production process, providing outstanding efficiency. Currently, Datalogic Vietnam is producing 75 – 80% of the total barcode reader of the corporation. Datalogic Vietnam's products have been exported to many major markets in the world such as Asia, Europe, America,.. In particular, the Americas account for 30 – 35%,.. Europe accounts for 45%,..
General Director of Datalogic Vietnam Company Limited – Mr. Tran Tien Phat said that currently, about 80% of production lines in the factory have been automated, the automated assignment system has helped the company optimize labor resources. Currently, most of the work assignment data for workers is programmed daily by artificial intelligence software instead of the manual assignment as before.
Thanks to high-tech industry, after 6 months of implementing Kaizen improvement project, Nam Ha Garment Joint Stock Company reduced the error rate from 8.8% to 8.1%, reduced 25% of inventory on the line, inventory, decreased from an average of 2.37 days to 1.34 days compared to production capacity, the average daily output increased from 415 products to 899 products.
Up to now, Ho Chi Minh City Hi-Tech Park has 165 projects with valid investment certificates with total investment capital of nearly 8.6 billion USD. In 2021, the production value of high-tech products of Ho Chi Minh City Hi-Tech Park reached 22.5 billion USD and accumulated up to the beginning of this year, reached nearly 108 billion USD.
Thanks to the investment in advancing the high-tech industry, operating a strict management system, the companies' product ensures accuracy, errors reduce to the maximum.
Focus on boosting the attraction of high-tech industrial investment.
Despite the efficiency of hi-tech industry and the proportion of enterprises participating in technological innovation is increasing, the reality shows that hi-tech industry has not developed as expected. Mainly industrial parks and export processing zones belong to a multidisciplinary model; in particular, enterprises have almost no linkage with each other in the economic sector.
In the face of this situation, localities have gradually taken the initiative to promote the attraction of high-tech industrial investment. Ho Chi Minh City has promoted the development of key industrial clusters with high technology applications, met the requirements of competition in both domestic and foreign markets.
Head of the Management Board of Ho Chi Minh City Hi-Tech Park- Assoc., Dr. Nguyen Anh Thi said that in the strategy of attracting investment, Ho Chi Minh City Hi-Tech Park prioritizes projects with clean technology, advanced technology, new technology, high technology, modern management, high added value, global production and supply chains. Accordingly, the focus is on four key points: information technology – telecommunications – microelectronics; precision mechanics – automation; biotechnology in pharmaceuticals and the environment; new energy – new materials – nanotechnology.
In the period 2021 – 2025, it is expected that the total investment attraction capital will reach about 3 billion USD with more than 50 high-tech projects; the total value of production of high-tech products of domestic enterprises will double in the previous period of 5 years, by 2025, strive to reach about 30 billion USD of export value.
Statistics on the reality of high-tech industrial development in Ho Chi Minh City showed that, along with 17 export processing zones – industrial zones currently, there are two groups of industrial zones that should be studied to attract high-tech industry. In particular, the newly formed industrial park group is attracting investment including: Ta Phu Trung Industrial Park, An Ha, Automotive mechanics, Le Tuong Minh District 3. In the coming time, the industrial parks will continue to complete the infrastructure, and attract investors with high interest.
There are some industrial parks which has been established but not implemented such as Phong Phu, Le Minh Xuan 2, Vinh Loc, Northwest Bac Cu Chi. The industrial park of Pham Van Hai, which covers 668 hectares, is of great relevance. Ho Chi Minh City submits a proposal to the Prime Minister for inclusion in the city's industrial zone development.
The city should establish target groups of firms to attract in order to have proper investment strategies and programs, effectively invest and successfully build industrial parks. Additionally, designate priority industries to attract investment so that the value and superior benefits of the industrial park model may be clearly identified to support the use of high technology.
Author: General editorial board