ITG Technology.,JSC is a tech-based pioneer in developing Smart Factory Solution (3S iFACTORY) and Smart Business Solutions (3S ERP, 3S MES) in Vietnam. ITG's mission is to provide businesses with firm software architecture and lean management knowledge to become smarter by comprehensive digital transformations. ITG believes technology application is the key for enterprises to optimize their Quality – Cost – Delivery issues and improve competitive advantages for entering the global supply chain.
With over 15 years of establishment and development, ITG is bringing value to more than 1000 large local clients and Japanese and Korean FDI companies, among whom are in VNR500, in diverse industries such as: Electronics & Components, Mechanical Engineering, Plastic & Molding, Printing & Packaging, Construction Materials, Chemicals, etc. ITG are also associated with international partners to provide holistic solutions from strategy to execution for big brands such as: Aluba Sunhouse, HTMP, HPL – Jager, Ricco Glass, Sunlin Electronics, etc…
Honored 3 times with the prestigious Sao Khue Award for Excellent Software, ITG solutions have been recognized by experts. ITG also affirmed our position being in Top 50 Leading IT companies in Vietnam awarded by Vinasa (Vietnam Software and Information Technology Services Association) for three consecutive years (2017 – 2019)
ITG's vision is to become the leader in providing the smart factory solution in Vietnam and bring Vietnamese knowledge and technology products to the globe.
ITG Technology's smart factory solution – 3S iFACTORY was honored Sao Khue 2021 Award
ITG's featuring solutions
Smart Factory Solution – 3S iFACTORY
3S iFACTORY is a set of comprehensively digital transformation solutions with the combination of IT (information technology) and OT (operation technology). The solution also applies the latest advanced technologies (such as IIoT, AI, Big Data) that help enhance production capacity, improve product quality, reduce operational costs and ensure delivery schedules. The solution includes: 3S BIZHUB (Smart reporting system), 3S ERP (Enterprise Resources Planning System), 3S MES (Manufacturing Execution System), & 3S IIoT Platform (Connectivity – Manufacturing Automation System)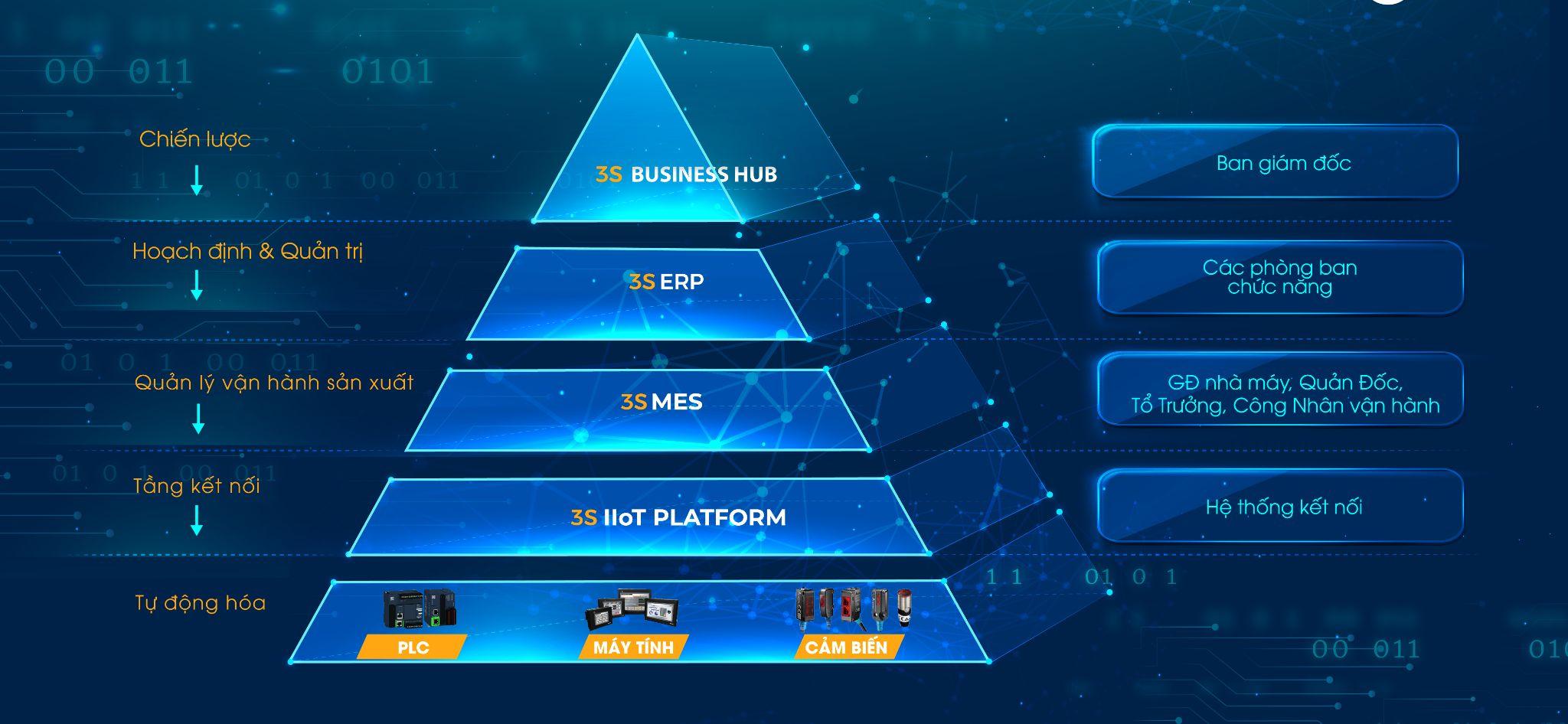 Smart factory architecture of the 3S iFACTORY solution
Enterprise Resources Planning System – 3S ERP
3S ERP is a holistic management solution which supports managers in planning and managing entire business resources (Goods – Property – Finance – Human Resource) and facilitates all departments of the business in executing business operations and sharing information efficiently via a workflow process designed in accordance with international standards.
Manufacturing Execution System – 3S MES
Manufacturing Execution System – 3S MES will bring about a comprehensive and in-depth view on each and every manufacturing operation of the factory, helping manufacturing managers to monitor, manage and conduct manufacturing operations in the factory in real time. 3S MES outstanding features include: progress report, production control, quality control, traceability and logistic management.
●      Connectivity – Manufacturing Automation Solution – 3S IIoT PLATFORM
As a bridge between OT and IT systems, 3S IIoT Platform will help connect data accurately and immediately between operation system and manufacturing management system. This solution can be integrated easily with smart technology devices: sensor, Barcode/QR code scanners, industrial tablet, etc. in order to support automatic data collection and real-time manufacturing capacity control.
●      Smart Reporting Solution – 3S BUSINESS HUB
As an indispensable tool of top-level managers, the smart management report solution – 3S BUSINESS HUB – helps strategic planners in making reports based on the data collected from multiple dynamic information sources, both inside and outside the business. This enables managers to make better decisions which work best for the long-term interest of the business.