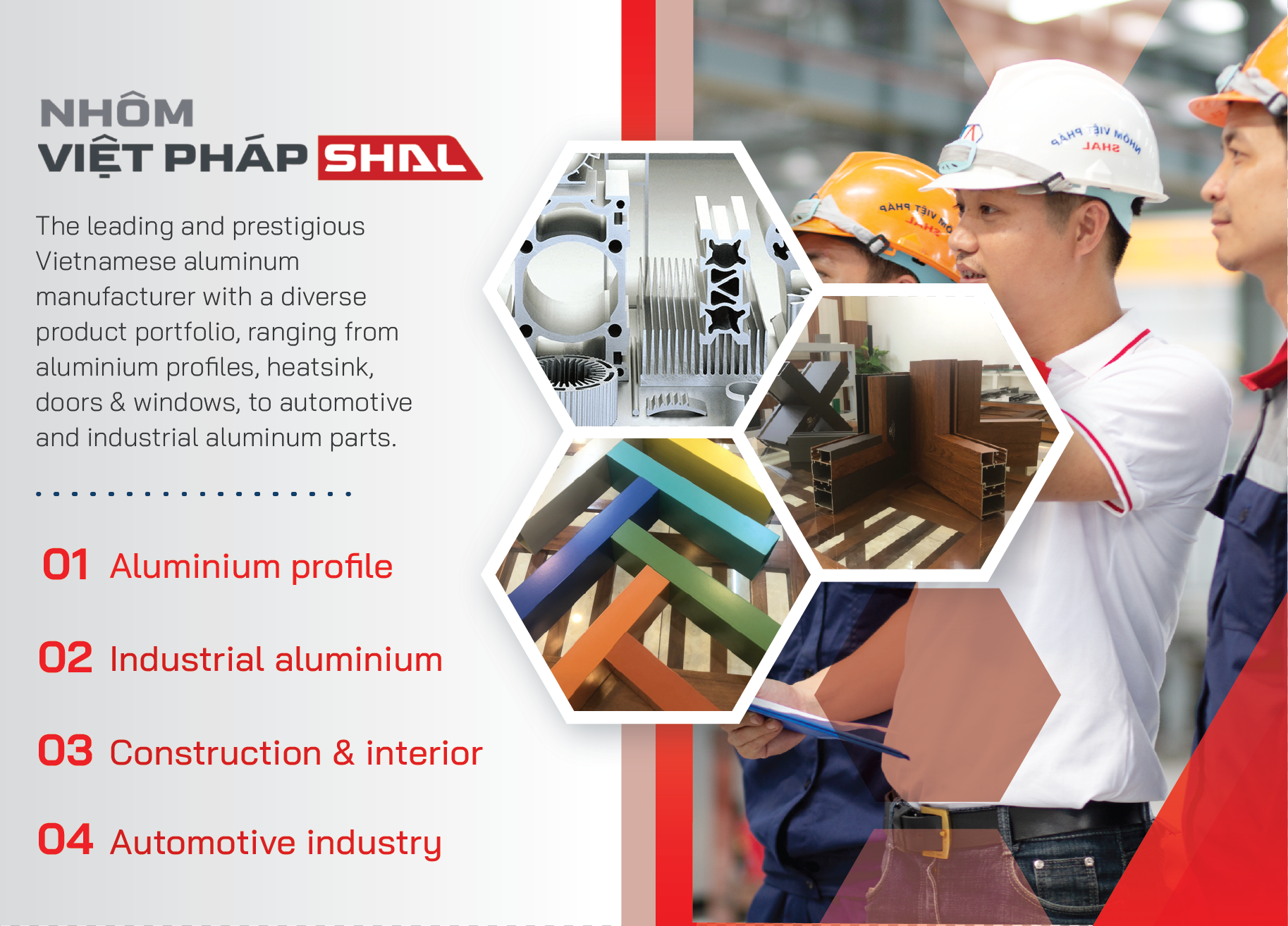 VFS (Viet France Shal Aluminium Joint Stock Company) is a joint venture product between the famous French SEPALUMIC Group and HACIPCO Company under the Hanoi People's Committee.
FIRST CHOICE FOR ALUMINIUM PRODUCTS
With a breakthrough strategy and a different orientation, Viet Phap SHAL Aluminum has boldly pioneered in investing in a high-class aluminum profile production line with the most modern technology from Europe. The factory's machinery system and technological lines are completely imported from world famous corporations such as: Sepalumic (France), Decoral System SRL (Italy), Kautec (Spain), Wagner (Germany), etc. Advanced automation production process, professional production management and skilled technical team trained by experienced foreign experts have created high-quality products that satisfy the most rigorous demands of architectural works both domestically and internationally.
Not only quality assurance, Viet Phap SHAL also offers customers a variety of products, ranging from aluminum profiles, heatsink, auto parts to even military products. Absolute quality, diverse products and dedicated service are how Viet Phap SHAL proves its No. 1 position in the market.
With the vision and mission aiming towards international standard aluminum product lines, covering the domestic market and expanding towards the export market; the company's management board decided to establish 2 new brands of shaped aluminum products: the Viet – France Shal standard line and the premium ADAMAS line.
ADAMAS Aluminum is a premium product line of Viet Phap Shal Aluminum Joint Stock Company. During the period of strong investment and development aimed toward international market, Viet Phap Shal Aluminum has been recognized and proposed by major international corporations in the aluminum processing and manufacturing industry such as Kautec (Spain), Wagner (Germany), Decoral (Italia), Press Metal (Malaysia)., etc,  to invest and develop a high quality aluminum product line, with international branding and outstanding advantages in style, design and durability.
MAIN PRODUCTS OF VIET PHAP SHAL:
PRODUCTION CAPACITY
EXTRUSION LINE
The extrusion line is imported synchronously from leading European countries with a total capacity of 1200 tons/month, capable of producing shaped aluminum profiles with a length of up to 14m.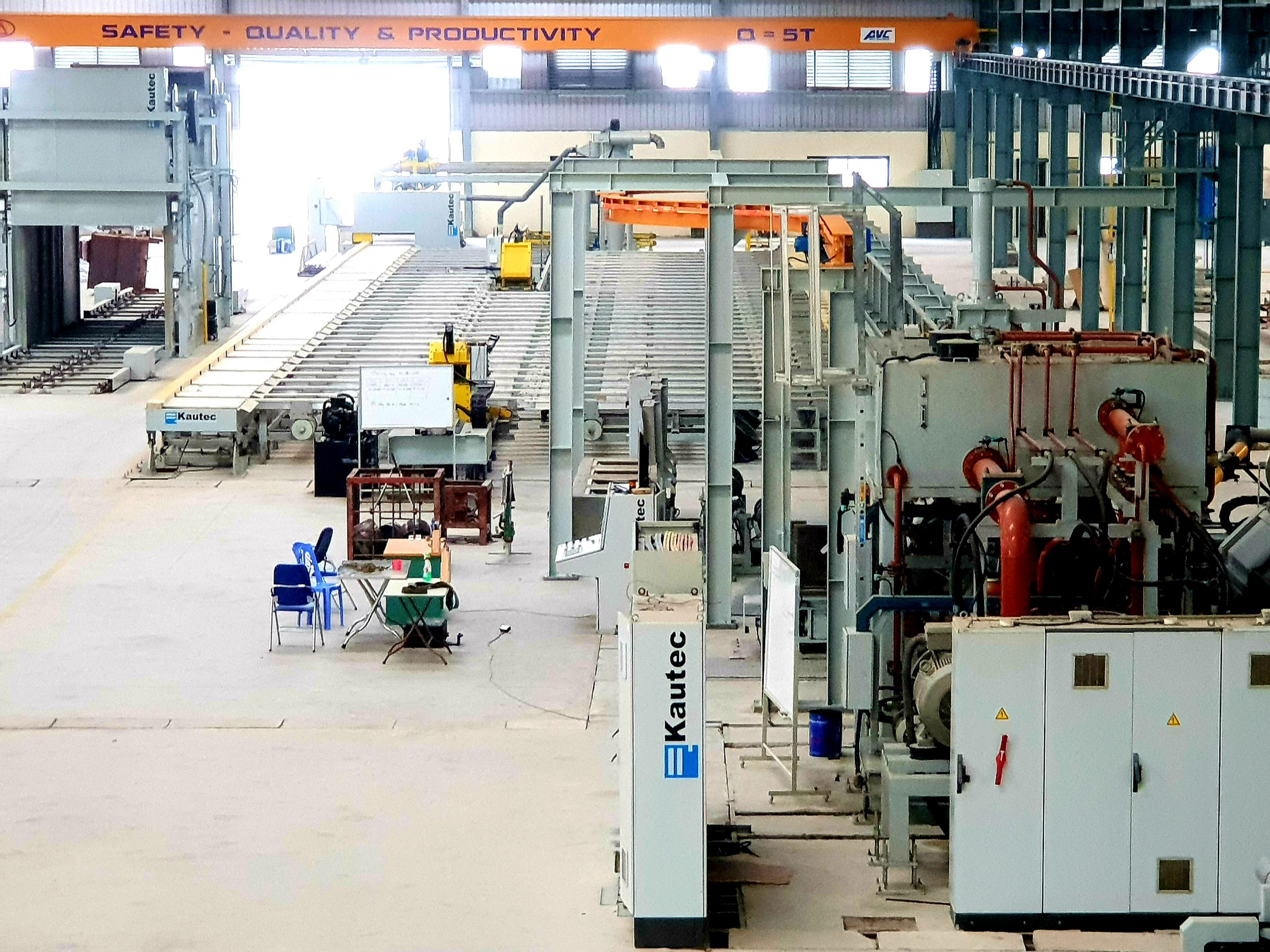 POWDER COATING AND DECORAL FILM COATING SYSTEM
The electrostatic powder coating line with a capacity of 700 tons/month is imported synchronously from WAGNER with equipment such as: paint booth, paint gun, robot, recovery system, drying oven and pre-treatment system. The system is programmed on PLC and computer with parameters set individually for each product code, therefore ensuring stable paint quality and color uniformity in the entire production process.
INTERNATIONAL CERTIFICATES
The international certifications serve as the testament to our quality and production process:
ISO 9001:2015
QCVN 16:2017
CORRO COAT Certificate
PPG CAP Certificate
DECORAL Certificate
AZKONOBEL Certificate
Coming to Vietnam International Exhibition on Supporting Industries and Manufacturing – VIMEXPO 2021, we aim to stand side by side with business partners, to create and meet all the needs for world-class Aluminium products, and to work together for a beautiful, prosperous and peaceful Vietnam.
Find out more information about Viet Phap Shal by visiting our website: https://vietphapshal.com.vn/ or by contacting through hotline: +84 888 358 999.
Find out more information about the premium product line ADAMAS at website: https://www.adamasaluminium.com/en or through hotline: +84 0961 838 356.