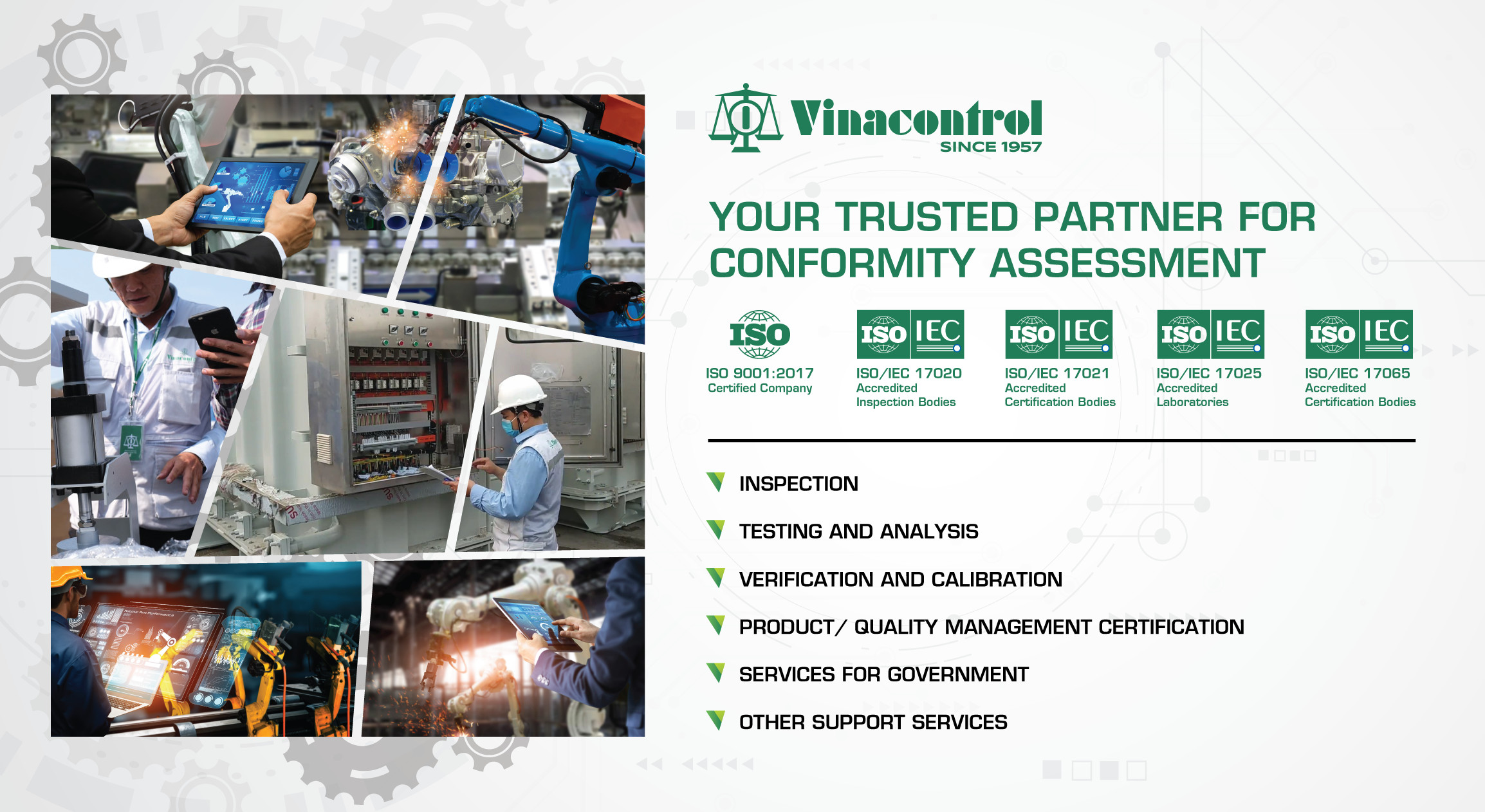 Established in 1957, Vinacontrol is the first and leading inspection, testing, verification, certification, and quality assessment organization in Vietnam.
RELIABLE PARTNER
With 64 years of experience in key commodity sectors, Vinacontrol ensures to provide customers with the best quality assessment services with the motto: "Accuracy, Honesty, Promptness", guaranteed quality and safety of products right from input materials, during production, transportation, trade, and to consumers.
Vinacontrol is a reliable partner of supply chains, enterprises, project management boards, and Vietnamese state management agencies. Vinacontrol's technical solutions focus on quality control activities, ensuring compliance with the standards and regulations of the importing country or requirements in domestic and international commercial contracts.
MAIN SERVICES OF VINACONTROL:

WIDE NETWORK
28 branches & member units and 07 laboratories
Vinacontrol ensures maximum convenience and cost savings for enterprises when using our services through a network of 28 branches, member units, and 07 laboratories that are evaluated and accredited following the ISO/IEC 17025:2017 standard.
QUALITY MANAGEMENT SYSTEM
INTERNATIONAL STANDARDS RECOGNIZED
ISO 9001:2015
ISO/IEC 17020 – For inspection activities
ISO/IEC 17021 – For audit and certification of management systems
ISO/IEC 17025 – For testing and calibration laboratories
ISO/IEC 17065 – For bodies certifying products, processes, and services
Participating in the Vietnam International Supporting Industry and Manufacturing Exhibition – VIMEXPO 2021, Vinacontrol wishes to accompany the business community and support enterprises to advance production capacity, meet the world's most advanced quality standards. From that, enterprises can confidently connect and integrate deeply into the global supply chains, creating prosperity for the Vietnamese economy and the world.
To find out more information about Vinacontrol's solutions, enterprises can visit the website https://vinacontrol.com.vn/ or contact the hotline 0243 943 3840 directly for advice on the most optimal solutions for conformity assessment.