VOV.VN – The capital has devised a wide-ranging scheme to encourage the development of the supporting industry in order to promote industrial production to enter the global value chain.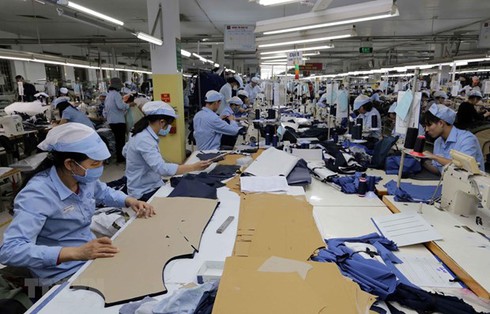 Textile workers at Duc Giang Garment Company Limited (Photo: VNA)
This plan will see Hanoi focus on three key areas, including the production of spare parts for manufacturing industries, the supporting industry for high-tech industries, and the supporting industry for the textile and footwear sector. This will be done alongside boosting supply linkages throughout key northern economic regions.
It is hoped that the capital will have approximately 900 businesses in operation in the supporting industry by the end of 2020, of which roughly 400 enterprises will own production systems and products that fall in line with international standards. It is also anticipated that these firms will have a sufficient supply capacity to participate in the global production network that is necessary for multinational corporations based in the nation.
The industrial production value of the supporting industry is therefore expected to account for some 18% of the city's processing and manufacturing industries' total industrial production as of the end of 2020.
The measures will see a series of international fairs and exhibitions displaying supporting industry products in Hanoi organised during 2020, with the events featuring the participation of industrial enterprises nationwide in addition to a number of foreign businesses from Japan, Taiwan (China), Hong Kong, and Thailand.
Through the fairs, businesses based in the capital will have the opportunity to improve their competitiveness, be active participants in the manufacturing industry's global supply chain, while also enhancing the capability of international economic integration, and strengthening connectivity among various firms.
Moreover, the sidelines of the event will see the municipal People's Committee play host to an international seminar that will see approximately 200 representatives from relevant ministries and leaders of supporting industry enterprises participate, along with technological experts from both home and abroad.
Furthermore, Hanoi will also support businesses as they apply fresh management systems to come up to the requirements of global production chains, with a particular focus placed on corporate governance and production management.
Along with these measures, the capital will also support the research, development, and technology transfer in the production of components, and materials on a trial basis. Domestic experts will also be hired to provide direct support and advice to enterprises relating to issues such as technology transfer and copyright.