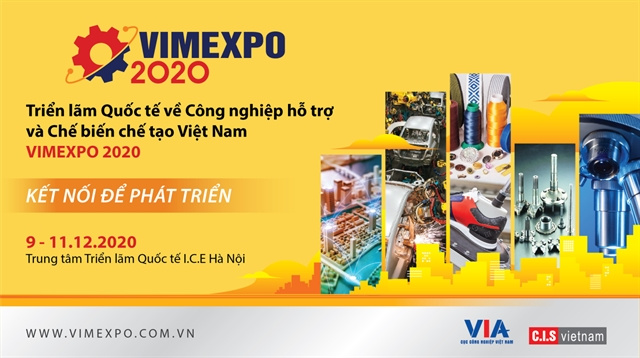 VIMEXPO will take place from December 9 to 11.— Photo dantri.com.vn
HÀ NỘI — The Việt Nam International Exhibition on Supporting, Processing and Manufacturing Industries (VIMEXPO) 2020 will take place at the Hà Nội International Exhibition Center from December 9 to 11.
VIMEXPO 2020 is directed by the Ministry of Industry and Trade, hosted by the Industry Agency and organised by C.I.S Việt Nam Advertising & Exhibition JSC.
The exhibition covers an area of about 5,000 square metres with 250 booths of 150 companies. It is expected to welcome 18,000 visitors during the three-day event.
VIMEXPO 2020 introduces six target groups of supporting industries and achievements to domestic and international partners.
This exhibition will be the starting point for Vietnamese manufacturers to strengthen joint ventures, networking, co-operation and sustainable development, as well as effectively participate in global supply chains.
With the goal of "Connecting for Development", VIMEXPO 2020 will be an ideal meeting point for businesses, which contributes to concretise the Government's Resolution 115/NQ-CP on solutions to promote the development of supporting industries.
The resolution, which was issued on August 6, has many new policies, which it is expected to create a big push for the supporting industry and the processing and manufacturing industry in Việt Nam.
The resolution sets out the target that Vietnamese enterprises will be able to produce highly competitive supporting industrial products, meeting 45 per cent of the essential needs for domestic production and consumption, accounting for about 11 per cent of industrial production value by 2025.
By 2030, supporting industrial products will meet 70 per cent of the demand; accounting for about 14 per cent of industrial production value.
In addition, the COVID-19 pandemic has greatly affected the value chain of the global manufacturing industry, causing a supply chain break and a negative impact on the global economy and society.
The timely introduction of mechanisms and policies to promote the development of the supporting industry in this period is one of the urgent solutions, not only helping to develop production and economic growth in the short term, but also has an impact on the entire industry in particular and the sustainable economic development of Việt Nam in general in the long term. — VNS