Total demand of the domestic mechanical market by 2030 is estimated to reach about US$300 billion, according to the Việt Nam Association of Mechanical Enterprises (VAMI).
Amid the 4th industrial revolution, Vietnamese scientists have quickly adapted and applied scientific and technical technology for socio-economic development. In particular, a member of Phenikaa Group (A&A Green Phoenix Group Joint Stock Company) researched and launched the first level 4 smart self-driving vehicle product in Vietnam with many outstanding features and advantages, which were researched, developed and put into application by a team of Vietnamese scientists.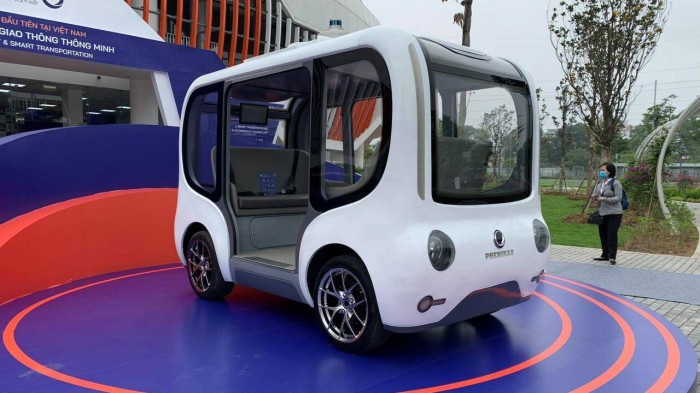 Phenikaa Level 4 autonomous electric vehicle. Photo: baogiaothong.vn
Level 4 smart self-driving vehicle is one of the few self-driving cars in the world that possesses level 4 driverless  features on a 5-level scale developed by the Society of Automobile Engineers (SAE).  The vehicle's 40 smart features are divided into 4 groups of systems: Lane Control, Safety Control, Obstacle Detection, and Smart Driving.
Le Anh Son, Director of Phenikaa-X, who is directly involved in vehicle manufacturing, said Phenikaa-X hopes that the first Made-in-Vietnam level 4 smart self-driving car in Vietnam will contribute to future orientation for the self-driving technology industry in Vietnam, localize technology products, and meet customer expectations by providing perfect high-tech products or solutions according to global quality standards.
"Self-driving vehicles developed and launched in 2020 and began to be operated in some locations that are isolated areas, not yet open to public transport. Vehicles were tested for such functions as changing lanes and avoiding obstacles," Mr. Son said.
Phenikaa smart self-driving car, the first prototype car, was completed after only 6 months by the project team of scientists, experts and engineers of Phenikaa Group from research centers, institutes, Phenikaa University, and Phenikaa-X Joint Stock Company. Phenikaa smart autonomous vehicle has the abilities to automatically change lane, detect signs and pedestrians, position via the 3D map, analyze real-time motion of other vehicles, and setting up the routes based on surrounding obstacles and vehicles in addition to other tasks such as setting up the route and maximum speed as well as automatic parking. Particularly, Phenikaa smart autonomous vehicle is driverless and the user can take control of the vehicle via a customized application.
In addition, the vehicle's operating system can set the travel route and set the maximum speed remotely, switch the steering function between one and two wheel drive, as well as automatically move into the parking area. In particular, the self-driving car has no steering wheel, so there is no need for a driver assistance system, self-driving mode is easily operated as users can interact with the vehicle through specially designed software.
Mr. Le Anh Son said: "There are many technologies applied on self-driving cars. The first is map making technology. This is a high-quality digital map made through two main technologies: photo technology using drones to take pictures, producing 3D images, and have coordinates attached to the points in the figure. The second is Lidar technology, which is a sensor that uses a laser to capture and measure the distance to any object, creating a map with high accuracy. The next is AI technology, artificial intelligence, which is used a lot on self-driving cars. AI technology uses sensors to distinguish whether these are buildings, trees, pedestrians or moving vehicles. In addition, AI is also used for in-vehicle routing, enabling how the car will move, find routes or analyze traffic situations."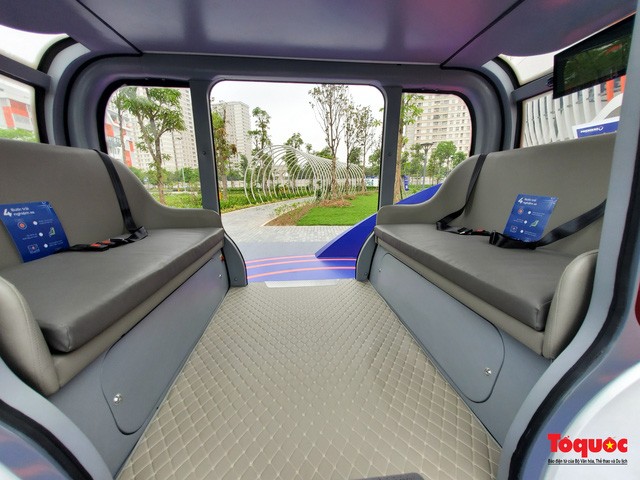 The self-driving car has no steering wheel, so there is no need for a driver assistance system, self-driving mode is easily operated as users can interact with the vehicle through specially designed software. Photo: toquoc.vn
Phenikaa intelligent self-driving car was developed with the goal of optimizing benefits for users and possessing outstanding intelligent features. This is one of the self-driving cars with intelligent solutions rarely seen in the world.
It is environmentally friendly when running on electricity, owning level 4 self-driving features, with nearly 40 intelligent features divided into four groups of systems: Lane Control, Safety Control, Obstacle Detection, and Smart Driving. Mr. Le Anh Son added: "Vehicle components are purchased abroad. For example, sensors must be purchased in the US and Japan. The control software and other components such as chassis, tires, interior and exterior parts made by Vietnamese engineers. The company is continuing to improve the product, evaluate the vehicle's operation, and do the repair work regularly and periodically."
At the international conference "Autonomous technology and smart transport" held for the first time in Vietnam in March 2021, Phenikaa Group introduced its vehicle to the public and scientists around the world. The roll-out and first-hand experience of Phenikaa Group's Smart Self-Driving Vehicle was considered the highlight of the event, which won appreciation of experts, attendees and the social community. This milestone marks the impressive initial results in mastering Level 4 autonomous vehicle technology and producing the first prototype of this level, confirming its outstanding ability in research and development (R&D), applying science and technology and rolling out smart, classy and pioneering high-tech products of Phenikaa Group. Mr. Phan Tam, Deputy Minister of Information and Communications, said the results of Phenikaa's research, development and testing of self-driving vehicles have confirmed that the Vietnamese technology circle and Vietnamese people can fully master technology 4.0, researching, creating and manufacturing Make in Vietnam products.
Phenikaa's researches are a source of encouragement for the Vietnamese digital business community, which promote passion and innovation.
To ensure the safest operation of the electric vehicle before being put into operation, Phenikaa conducted the test at Ecopark urban area in Van Giang district, Hung Yen province. After two weeks of testing, Phenikaa-X's self-driving car has had initial successes and is well received by residents here.
Mr. Nguyen Xuan Phuc, Sales Director of Ecotech Company, a member unit of Ecopark, said: "In the Smart City project carried out by Ecotech in Ecopark Urban Area, Phenikaa's Level 4 autonomous vehicles have been accepted. Through testing, vehicle is proved to be safe for residents, will provide a good experience, and require minimal human resource and driving, and the car can run on its own in off-peak hours or from 21h-24h at night. The car can drive itself to the recharging point."
This landmark event marks Phenikaa's success in research and development of self-driving vehicle technology. It opens up opportunities for self-driving vehicle technology to serve the transportation of people and goods in tourist areas, golf courses, urban areas, airports, and factories.