If sales through Amazon online stores worldwide are successful, Vietnamese products will have brand positioning in markets worldwide.
Vietnamese textile and garment firms will get opportunity to promote their brands on Amazon Global Selling.
The brand development is under a cooperation made by the Vietnam Textile & Apparel Association (Vitas) and Amazon recently.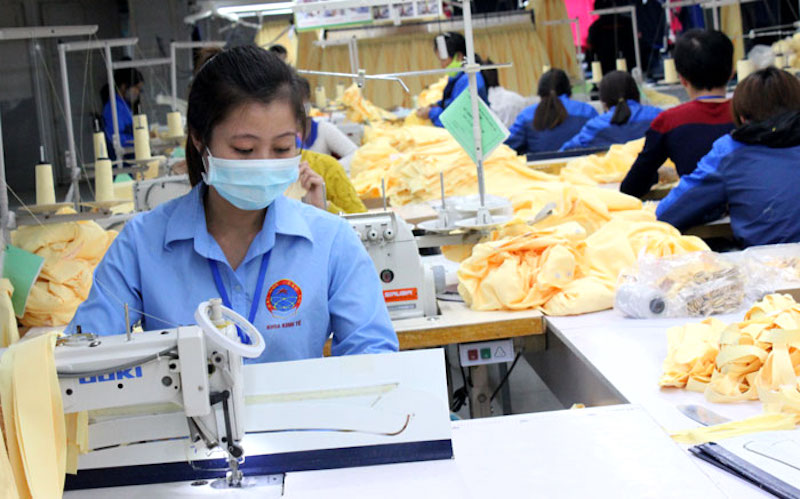 Workers at Truong Phuc Textile company.
The two sides responded to the fact that Made-in-Vietnam textile and apparel products are sold worldwide without their own brands. Meanwhile, Vietnam is known as the fourth largest exporter of textiles and garments  in the world.
According to the Vitas, if sales through Amazon online stores worldwide are successful, Vietnamese products will have brand positioning in global markets.
Through this global direct selling channel, Vietnam's goal of having 30 world-class textile brands will be achievable in the next nine years, according to Amazon, the world's largest online retailer.
Vietnam has the potential to develop cross-border e-commerce, with the advantages of a young and talented workforce and a strong online community.
Amazon Global Selling Asia will continue to invest in smart technologies and solutions, supporting its sale partners in Vietnam to approach potential customers as well as promoting exports globally, Bernard Tay, Director of Amazon Global Selling Southeast Asia, Australia and New Zealand, said at a recent conference in February in Hanoi.
Some experts have said that selling products via Amazon, even in small volumes, is a good opportunity to build up a brand. In particular, Vietnamese fashion products is well assessed by importers in terms of quality, reasonable prices and compliance with consumer requirements in many markets.
"However, a challenge for Vietnamese businesses in the industry is how to switch from business-to-business (B2B) to business-to-consumer (B2C)," a representative from Amazon has said.
Earlier, the e-commerce giant set up a team in Vietnam to help local businesses directly access 300 million buyer accounts, including more than 100 million prime customers in many of Amazon's international markets.
In 2020, Gilimex, a Vietnamese textile company, reported net profit of VND308 billion (US$13.3 million) thanks to a number of high-value contracts with international retailers including Amazon.
Source: vietnamnet.vn