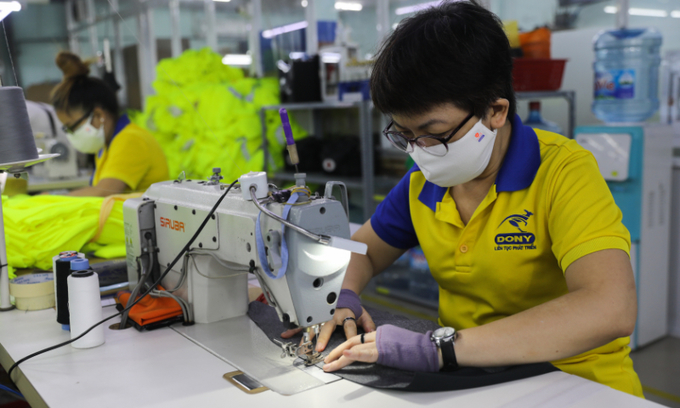 A worker is seen at a garment factory in Tan Binh District, Ho Chi Minh City, Oct. 21, 2021. Photo by VnExpress/Quynh Tran
The purchasing managers' index (PMI) rose to 52.7 in August from 51.2 in July, the latest survey from S&P Global showed on Monday.
Manufacturing expanded in August for a fifth consecutive month. This signaled a solid improvement in the health of industrial production and a return of momentum after a slowdown in July.
For a fifth successive month firms reported a recovery post-Covid and increased orders as a result of improving demand and competitive pricing.
The rate of input price inflation was the weakest in 27 months, the report added.
Andrew Harker, economics director at S&P Global Market Intelligence, explained: "This gave firms some breathing room to limit their own price rises, thus boosting demand.
"Manufacturers also benefited from a first shortening of suppliers' delivery times since November 2019, a marked turnaround from the widespread delays seen this time last year."
There was an increase in hiring last month thanks to a rise in new orders, with the rate of job creation quickening midway through the month.
But inventories continued to fall amid the expanding production.
S&P Global forecast relative stability in market conditions in the coming year and improvement in customer demand, which it said would support confidence in the year-ahead outlook for production.
Around 57% of respondents predicted output would increase in the next 12 months, while only 9% expected a decrease.
"With these supply headwinds having dissipated, firms should be able to concentrate on securing greater new orders and expanding production over the remainder of 2022," Harker added.
The PMI measures the performance of the manufacturing sector and is derived from a survey of 400 companies.
A PMI reading above 50 indicates expansion in manufacturing from the previous month, while a value of below 50 represents a contraction.