Vietnam's mechanical industry is looking to expand its horizons after suffering a drop in orders so far this year.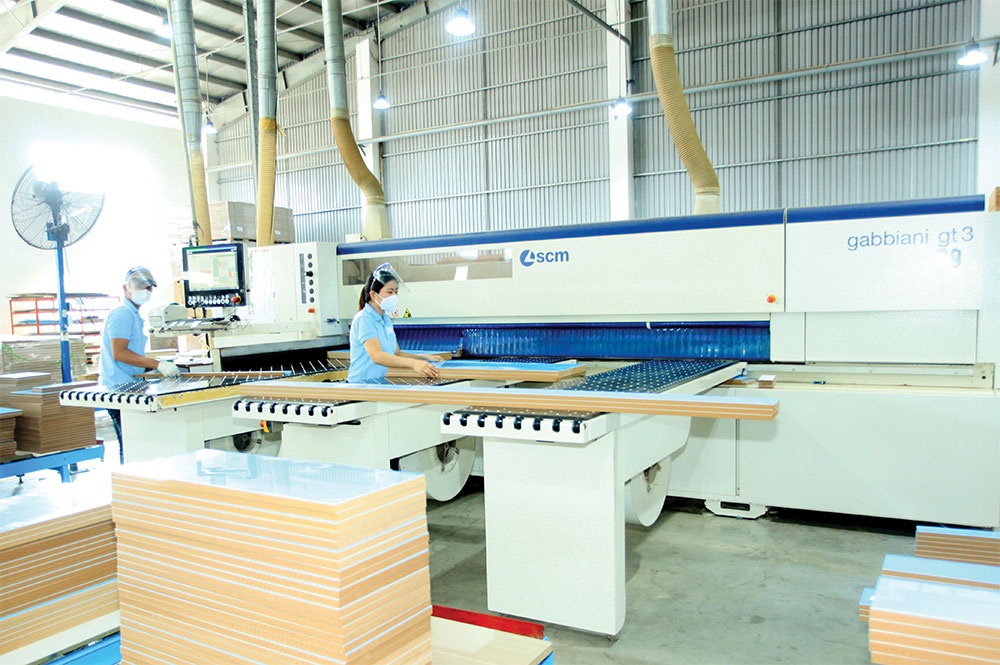 Research and development is a key avenue for stronger global supply chain involvement, photo Le Toan
Truong Thi Chi Binh, general secretary of the Vietnam Association of Supporting Industries (VASI), said there are many challenges for the mechanical industry, with a decline of 20 per cent in orders in the first eight months of 2023.
"This rate is up to 30-40 per cent for some manufacturers. However, the industry can still diversify due to the wave of change in the manufacturing sector globally," Binh said.
Vietnam has a chance to increase activity in the US market, which could be worth more than $300 billion in 2030, she noted.
Vietnam exports machinery and equipment mainly to the US market, with the 2022 turnover estimated at more than $20 billion, up 12.5 per cent compared to 2021, accounting for more than 44 per cent of the country's total machinery and equipment export turnover.
Nguyen Manh Hung, chief representative of the Vietnam Trade Promotion Office in New York, said, "The mechanical sector plays an important role in the US economy, especially in car manufacturing. The US will adopt advanced technology to produce electric vehicles as well as sustainable and eco-friendly products. There is ample room for Vietnam's mechanical sector to boost exports to the US market."
Hung encouraged local manufacturers to proactively source goods and comply with market regulations about product and safety requirements.
There are also positive signs of growing orders from Japanese partners. Ta Duc Minh, Vietnamese Trade Counselor in Japan, said the Japanese government is implementing a new policy of increasing imports from ASEAN to reduce the dependence on sourcing materials from China.
"Japan is a traditional market of Vietnam's mechanical sector, accounting for 5 per cent of its total export turnover. Japanese firms tend to expand cooperation with Vietnamese mechanics as Japan is dealing with the challenges of an ageing population and difficult generation transfer," Minh said.
"Therefore, Vietnamese mechanical companies should invest in research and development to participate in the global supply chain."
Binh of the VASI further noted that the United Arab Emirates is considered a potential market for Vietnamese mechanical products as the mechanical sector only accounts for half of the UAE's economic structure. The UAE focuses on crude oil exploitation and processing so it depends on imported machinery and equipment.
"While the sector looks to expand, domestic firms' capability has shown significant improvement over the past few years. There are numerous phases of production in which Vietnamese firms can compete with Chinese and Indian enterprises. Vietnamese businesses need the support of Vietnamese trade offices overseas to improve market penetration and meet partners' requirements," Binh added.
The weakness of Vietnam's mechanical sector lies in its dependence on raw material imports. MBT Electrical Equipment JSC is the only company in the entire country specialising in producing electrical transformers and electrical cabinets. However, there is a wide gap to put Vietnam on the global map of prestigious industrial electrical equipment manufacturers.
"The company's profit remains low, which accounts for 5 per cent of the revenue due to the dependence on imported raw materials and selling through intermediaries," said Tran Van Nam, general director of MBT Electrical Equipment JSC.
"The company is importing silicon steel, paper and insulating oil, copper foil and wires, as well as switches from Japan, Germany, Italy, and the US. The costs of materials make up half of the total costs. We are sourcing materials locally to ensure the target profit accounts for 20 per cent of revenue. However, the local materials do not meet quality requirements," Nam added.
As of present, MBT has reached a capacity of 3,000 products, exceeding the level of 1,000 products in 2015.
Kim Hyo Tae, CEO of Doosan Vina, said at an industry conference in July, "The government should strengthen localisation policies to build the mechanical industry ecosystem and protect domestic companies. Many governments around the world have introduced supportive policies, in terms of taxes and infrastructure, to help companies increase their competitiveness in other countries."