The introduction of many models into domestic assembly and the increase in vehicle consumption has become a lever to help the Vietnamese automobile support industry develop.
​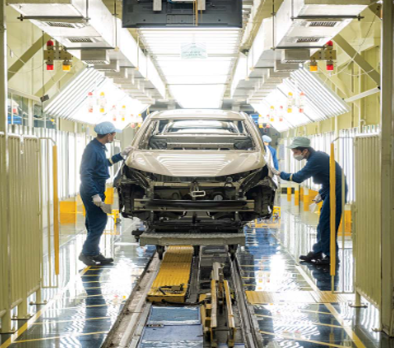 New drivers for supporting industries
In 2022, with automobile sales having surpassed the 500,000 vehicle mark, Vietnam has shortened the gap significantly with Thailand, no longer a small market, because this sales has nearly doubled compared to the Philippines.
When many major automobile brands in the world landed in Vietnam, the umbrella supporting industry is expected to create a new industry, however, over the past time, the automobile supporting industry has also faced many new difficulties and challenges such as: there are too many models, the output of each model is small and scattered, so it has pushed up production costs.
Many enterprises in Vietnam are only involved in the process of assembling cars, some enterprises participate in certain finishing stages such as: stamping shells, painting… However, in order to proactively supply and reduce costs while ensuring product quality, contributing to socio-economic development, there are still automobile enterprises that persist in developing support industries in Vietnam, such as Toyota Vietnam. Currently, Toyota Vietnam has a total of 5 models assembled at Vinh Phuc plant, including Veloz Cross, Avanza Premio, Vios,  Fortuner (oil engine) and Innova.
Currently, Toyota's total domestic production has reached nearly 1,000 products of all kinds, Toyota's list of suppliers has reached 58, including 12 Vietnamese suppliers.
Look for weaknesses to overcome.
In general, the barrier to the development of the automobile supporting industry is that the cost of domestically produced components is higher than that of similar components produced abroad. The reason for this barrier is due to low output because the market size is still small.
Not only affected by output, the supporting industry is also affected by many other factors such as: due to the small market capacity, the scale, output is still low; the qualifications, skills, and workers in complex goods are limited; Many high-quality raw materials for production depend entirely on imports, leading to high prices.
However, experts also frankly said that, besides the weaknesses that need to be overcome, suppliers in Vietnam also have certain advantages over suppliers from abroad such as having skilled labor sources, low labor costs, transportation costs to cheap automobile assembly plants…
Therefore, in order to improve the competitiveness of domestic vehicles with fully imported cars and commit to developing domestic production and localization strategy, Toyota Vietnam has implemented supplier support activities, aiming to create a safe workplace, high quality products and competitive costs. Toyota Vietnam has set up a dedicated department to support suppliers, especially Vietnamese suppliers, to help suppliers improve product quality, work efficiency, lower product prices, towards the goal of increasing localization rate, contributing to the development of Vietnam's supporting industry and automobile industry.​