(VEN) – The Covid-19 pandemic has disrupted global supply chains, leaving many large foreign corporations in Vietnam short of spare parts and accessories for production. In this context, a number of Vietnamese supporting industry enterprises have seized the opportunity to fill the void and become important links in these supply chains.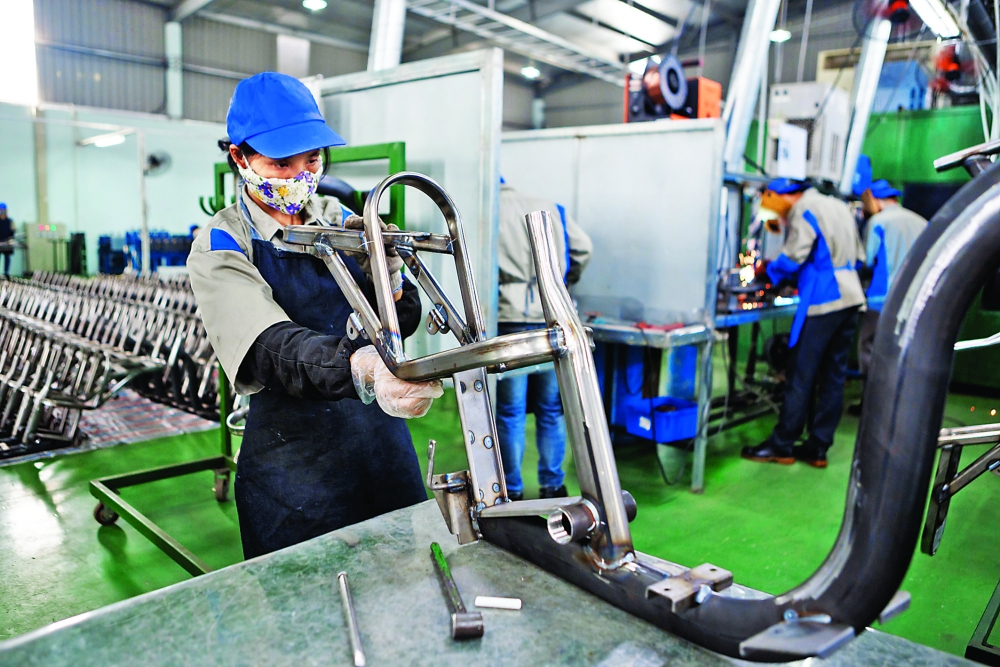 Supporting industry businesses gain success thanks to strengthened links in exploiting orders
Orders surge
According to data from the Industry Agency under the Ministry of Industry and Trade (MoIT), about 1,800 enterprises operate in support industries, accounting for nearly 4.5 percent of all enterprises in the manufacturing and processing sectors. Of those, 300 enterprises are engaged in supply chains of multinational corporations and the Covid-19 pandemic has presented many with uniquely favorable circumstances.
"After raw material supplies from China, the Republic of Korea and Japan were suspended due to the pandemic, foreign-invested enterprises in Vietnam turned to domestic partners and this is a good for opportunity for Vietnamese businesses to affirm their foothold in this supply chain," says the head of the MoIT's Industry Agency Truong Thanh Hoai.
According to Do Phuoc Tong, Chair of the Ho Chi Minh City Association of Mechanical and Electrical Enterprises, many businesses suffering shortage of equipment supply from China have switched their orders to supporting industry enterprises in Vietnam, especially of electricity mechanical equipment, molds and more. Therefore, while many domestic companies have been forced to slow or suspend production during the pandemic, some supporting industry enterprises have more orders than they can supply and are running at full capacity.
In order to meet demand, many supporting industry enterprises have rearranged their production lines, confirming their prestige and product quality with big foreign direct investment (FDI) corporations. For example, orders from Lap Phuc Company Limited, a mold manufacturer in Ho Chi Minh City, recently increased by 10 to 20 percent, mainly from FDI enterprises in Vietnam. An Phat Industrial Technology Co., Ltd (in Dong Nai Province) reported a 20-30 percent increase in orders, leading it to speed up production and work overtime to ensure on time delivery.
According to the chair of the Dong Nai Supporting Enterprises Association, Le Tri Minh, many members of the association are reporting an increase of 30-40 percent in orders compared to a year ago, mostly from FDI enterprises that have turned to domestic suppliers after supplies from China dried up.
Supporting industry challenges
Although orders increased by 30-40 percent, many domestic manufacturers are worried about the shortage of raw materials for production. For example, in order to manufacture supporting equipment, parts and components, enterprises must have raw materials such as iron, steel and cast iron, especially for the mechanical engineering industry.
Although domestic enterprises have supplied a large amount of steel to the market, some types still have to be imported. Another problem, according to businesses, is the pressure of the sudden increase in orders and very short supply deadlines to meet the needs of FDI enterprises stranded by shortages.
Despite extensive efforts in recent decades, Vietnam's supporting industry has not met expectations, and the integration of Vietnamese enterprises into the global value chain has been slow. According to 2019 data, only 21 percent of small and medium-sized enterprises (SMEs) participate in global value chains, compared with over 30 percent in Thailand and 46 percent in Malaysia.
"Therefore, in the long run, when the pandemic is over, supporting industry enterprises need to guarantee requirements of quality, prices and delivery time to retain customers. In addition, they need to strengthen connectivity in exploiting orders because there are many products of this company that are inputs of others. Therefore, linking businesses and members together will certainly increase material supplies and reduce imports," Do Phuoc Tong emphasized.
Pham Manh Thang, Director of P&Q Solutions Co., Ltd, said small and medium enterprises (SMEs) in Vietnam lack strategy, their manufacturing practices are poor and their planning, production and equipment management are lacking. In addition, human resources and managers are not sufficiently able to support production.
Under the recently drafted Support Industry Development Strategy of the Ministry of Industry and Trade, Vietnamese supporting industry products are expected to meet 45 percent of essential requirements for industrial production and domestic consumption, and yield export revenues accounting for 25 percent of industrial production value.
The MoIT will continue to complete policies, ensure a favorable business environment with low market entry costs to provide maximum advantages for supporting industry firms, especially SMEs.
The MoIT will also recommend policies to encourage localities to allocate budgets for supporting industries development, especially for downstream industries of automobile, electronics, garment and textiles and footwear. The supporting industry enterprises for their part need to make good use of new opportunities for further development.
Apart from negative impacts, the Covid-19 pandemic also created opportunities for domestic supporting industry businesses since many FDI enterprises are looking to domestic partners to ensure the supply of raw materials for production.
27Ngoc Thao