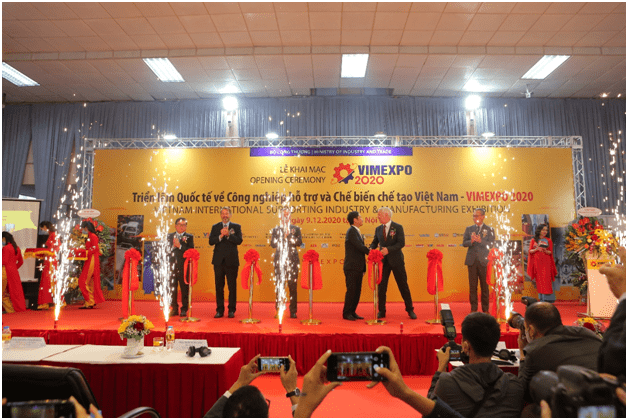 On December 9th, 2020 at Hanoi International Exhibition Center – I.C.E Hanoi, Friendship Cultural Palace, No. 91 Tran Hung Dao Street, Hoan Kiem District, Hanoi,the Opening Ceremony ofVietnam International Supporting Industry & Manufacturing Exhibition – VIMEXPO 2020 officially takes place.
VIMEXPO 2020 boasts an impressive scale of a specialized exhibition held for the first time with around 250 booths of more than 170 participating enterprises on a display area of 5,000 sqm. With the target 'Connect to Develop', this event aims at concretizing the Government's Resolution No.115/NQ-CP with the aim of providing feasible solutions to promote the development of Supporting Industriesin Vietnam. The exhibition has received great participation and support from state management agencies, governmental and non-governmental organizations, professional associations, consuls, domestic and international trade promotion organizationsand leading enterprises operating in supporting industries. During 3 exhibition days, here participating enterprises will introduce key products, with the latest technologies to the market.Manufacturing enterprises in supporting industries supplying products to large enterprises in automotive industry such as Tinh Ha, Ema, Kokwang, Kim Sen, Delta, Kyoyo, Bac Viet, Toko, Viet Industry, Phuong Trang, etc.have the total scale of more than 100 booths. Electronics and high-tech industrieswith the participation of Samsung, M3 – Viettel, ABB, Bien Dong, Meeco, Asti, Graphtech, 3D Solution, etc.have the total scale of nearly 80 booths. Textile and Garment, Footwear – Leather, Rubber and related fields receive the participation of more than 40 enterprises with nearly 50 booths at the exhibition.
During exhibition days at functional area A1, Industry Agency (Ministry of Industry and Trade) will host and coordinate with relevant agencies and organizations to organize 02 important conferences withtopics "Vietnam Supporting Industries – Potential & Opportunities"and "Opportunities and Challenges when participating in Global Supply Chains". The conferences are organized with the aim of creating linkage and dialogues between companies operating in supporting industries with strategy and policy makers in order to come up with appropriate laws and solutions to promote the development of manufacturing and supporting industries in Vietnam.
VIMEXPO 2020 with the goal "Connect toDevelop", in order to realize the message given by the exhibition as well asmaximize efficiency for enterprises participating in the program, during exhibition days at functional area A1, "Business Matching" activities will be organized between supporting industry enterprises and Buyers. Up to now, according to preliminary statistics from the Organizing Board, there will be about 500 matching sessions between supporting industrial product suppliers and large buyers, FDI enterprises in Vietnam such as Samsung, Canon, Thaco, Honda, Toyota, ABB, Tung Lam, CPC EMEC, etc. With practical activities and contents that VIMEXPO 2020 brings to participating businesses as well as interested enterprises, VIMEXPO will become an annual program which is prestigious and full of potential in manufacturing and supporting industries in Vietnam.
The exhibition will be open to visitors from 10:00 to 17:30 on December 9, 2020 and continue to welcome visitors from 09:00 to 17:30 on December 10 and 11, 2020, the event is expected to attract about 15,000 visitors.
(The Organizing Board of VIMEXPO 2020 has fully prepared methods to prevent Covid-19 pandemic according to the regulations ofMinistry of Health to ensure health safety for exhibitors and visitors at the exhibition, exhibitors and visitors are kindly asked to cooperate).
For more information related to the program, please visit the official website of the exhibitionwww.vimexpo.com.vn
For detailed information, please contact:
Industry Agency (Ministry of Industry and Trade)
Address: 23 Ngo Quyen, Hoan Kiem District, Hanoi
Tel: +84-24.38238379
Contact person: Ms. Pham Thi Thu Thao (vimexpo.via@gmail.com– Mobile: 0975351983)
I.S Vietnam Advertising & Exhibition Joint Stock Company
Address: 112 – A3 Dam Trau, Hai Ba Trung District, Hanoi
Tel: +84-24.39844.104/05       Fax: +84-24.39844.108
Contact person: Ms. Quynh Huong (huongnq@cisvietnam.com.vn– Mobile: 0913056968)