On the morning of September 21, 2020, Signing ceremony of implementing the program supporting Vietnamese enterprises took place in Bac Ninh province among Ministry of Industry and Trade, Bac Ninh People's Committee and Samsung Vietnam.
This event marks the cooperation among the Government, Bac Ninh province and Samsung Complex in Vietnam in supporting domestic enterprises to develop supporting industries.
Currently, Vietnamese supporting industry still reveals its shortcomings and drawbacks such as small scale, limited products, high prices, and lack of competitiveness with foreign products right in the country. The effective implementation of commitments will make an important contribution towards supporting Vietnam in general and Bac Ninh province in particular in supporting industry development.
According to the signed content, experts of Samsung Complex will survey, evaluate enterprises and directly give consultancy and work together to support enterprises in Bac Ninh province in improvement of their production process, enhancement of capacity to participate in the supply chains of components and accessories for Samsung and FDI enterprises in the area.
Samsung will support Vietnamese enterprises operating in supporting industries in Bac Ninh in order to enhance their competitiveness through improving production and quality control.
Samsung commits that the signing is a foundation for Samsung to share its long-standing experience with supporting industryenterprises in Bac Ninh, supporting enterprises to ensure their competitiveness in production, reaching out to international level.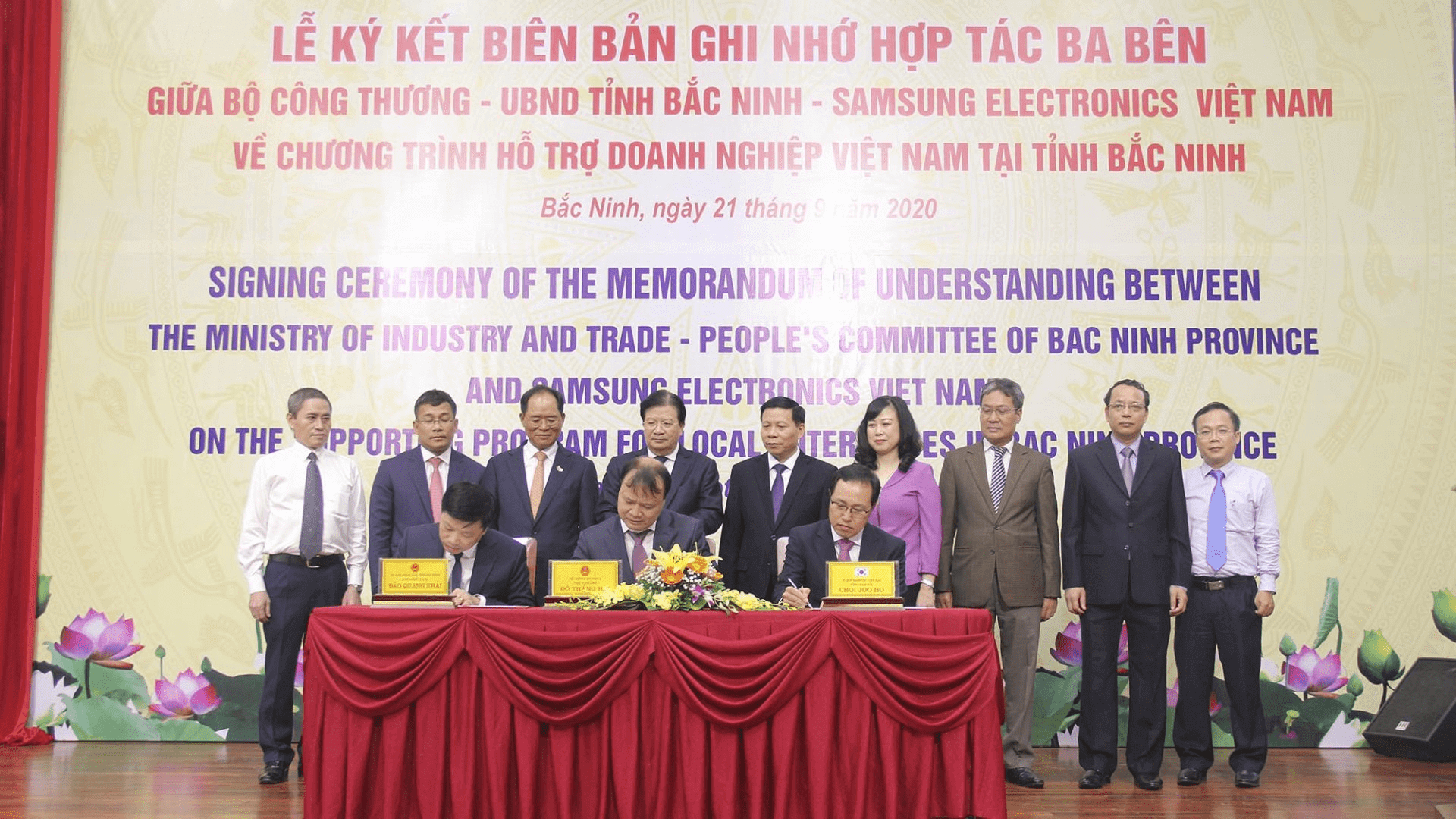 Speaking at the ceremony, Deputy Prime Minister Trinh Dinh Dung highly appreciated the significance of the coordination program. According to Deputy Prime Minister Trinh Dinh Dung, during the last time, Vietnamese supporting industry enterprises have made great strides, both in scale and quality, thereby increasing the localization rate in a number of important industrial sectors.
However, Vietnam's supporting industry still reveals its shortcomings, drawbacks and new problems; The biggest challenge is the competitiveness in domestic and international markets. In particular, supporting industry is still small in scale, products are limited, prices are high, and there is a lack of competitiveness with foreign products right in the country. Management capacity and capital are still inferior to those of developed countries, etc.
Deputy Prime Minister wanted Samsung Corporation to continue to show its responsibility, support Vietnam in developing and building many supporting industry enterprises, boosting product value, and increasing the proportion of domestic products in production. The aim is that Vietnam can become one of the suppliers with a high proportion in Samsung production chain. Therefore, the program of signing cooperation in supporting industry this time is a solution to overcome difficulties and shortcomings. This is a model for other enterprises to learn, innovate and improve their own capabilities.
"Vietnam Government commits itself to always supporting the cooperation among ministries, central branches, localities and large corporations in the implementation of programs to support enterprises insupporting industry development," highlighted Deputy Prime Minister.