Vietnam is seeking solutions to help local businesses overcome obstacles by forming business groups and fields to increase output and quality of products.
Vietnamese enterprises in supporting industry should increase cooperation among them to overcome weaknesses amid low engagement of domestic market share in the sectors having foreign players.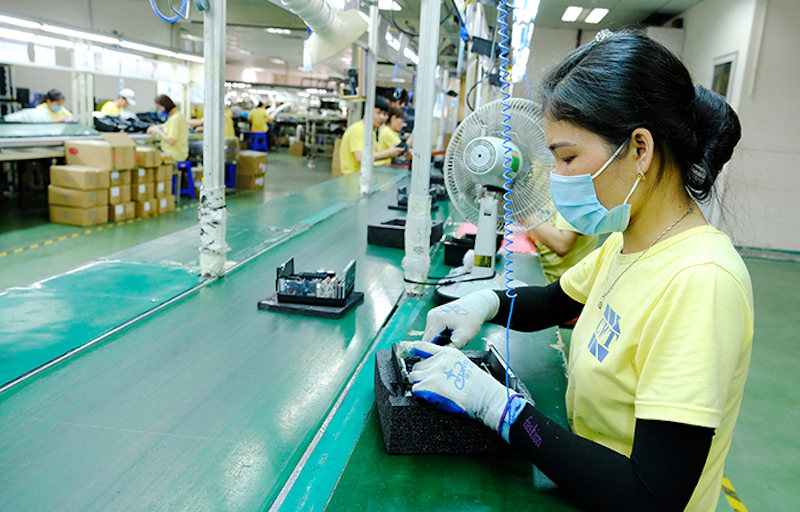 Local laborers are working at an electronics manufacturing factory in Channel Well Technology Hanoi. Photo: Pham Hung/ The Hanoi Times
Akutsu Michio, an expert from the Association of International Business Advisors, gave his suggestion at the online business matching session jointly held for Vietnamese and Japanese enterprises in the support industries by the Vietnam Trade Promotion Agency (Vietrade) under the Ministry of Industry and Trade (MoIT) on July 5.
According to him, there are a few Vietnamese enterprises who are able to provide supporting industrial products to Japan. Besides, Vietnam's labor productivity is still low. The number of high-quality workers accounted for only 14.4% of the total labor force, according to the Japan External Trade Organization (JETRO)'s recent report.
Vietnamese talent, who have high technical skills, have been attracted by foreign-invested enterprises and have gone abroad to work, leading to a shortage of qualified human resources, he said. Meanwhile, Vietnamese enterprises have weak financial capacity so it is difficult for them to access raw materials at competitive prices, as well as information from foreign suppliers.
He added that the trading companies can supply raw materials at competitive prices, assist in customs clearance, propose new production methods, and help manufacturing and assembly enterprises in mechanization and automation.
"If something goes wrong, these trading companies can coordinate suppliers and assembly plants to suggest solutions. They may provide unpublished information about capital investments, new product development programs," he added.
Speaking at the conference, Truong Thi Chi Binh, Vice President of the Vietnamese Association of Supporting Industries (VASI), said that Vietnamese manufacturers in the support industry are mainly those involved in the production of plastic and rubber, and individual components.
Forming business groups to increase output and quality
The VASI leader also said in order to support the businesses, the association has focused on seeking solutions in the supply chain by forming business groups and fields to increase the output and quality of products.
"The supply chain shift is not only in-depth but also in quantity, orders from China are now above the capacity of domestic enterprises," Binh said. "The association hoped the business groups can participate more deeply in the supply chains of supporting industry products of Japan and the world."
So far, the Ministry of Industry and Trade has set up three technical centers to support industrial development in three key economic regions in the North, Central and South regions, with the goal of assisting businesses in supporting and manufacturing industries in the process of innovation, transfering technology, improving productivity and quality, creating added value as well as participating in the global supply chain.
Vu Ba Phu, Vietrade's Director General said the agency will organize programs to aid Vietnamese enterprises in trading with those from Japan. "These are good opportunities for the businesses of the two countries to look for potential customers and promote the export of products of the support industry.