Of the 200 partners that provide parts to Apple, only 25 enterprises are from Vietnam and the others are foreign invested.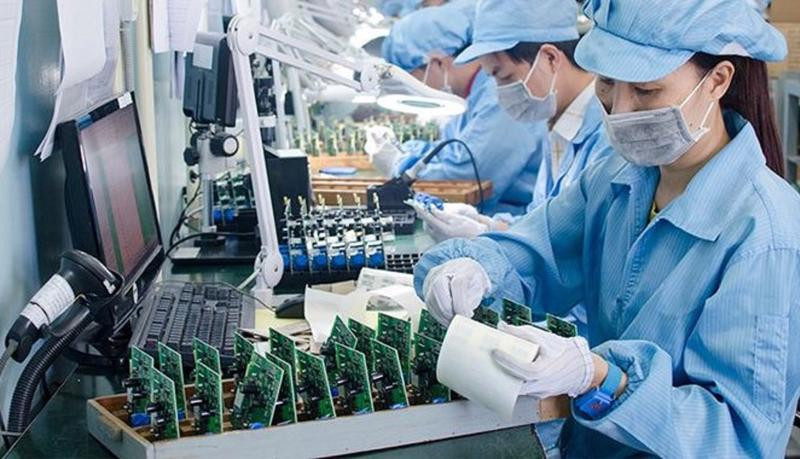 Apple is relocating its supply chain to Vietnam and India. Vietnam ranks sixth for the number of partner companies of Apple and its position will improve in the coming time. However, it is still difficult for Vietnamese enterprises to join the company's supply chain.
Vietnam has attracted dozens of billion USD from world leading electronics groups like Samsung, LG, Panasonic, Intel, Canon and Foxconn. Last year, Vietnam earned US$100 billion export revenue from electronic products, including $57.5 billion from phones and components, up 12 percent over 2020. The figure for computers and electronic products was $51 billion and 14.4 percent, respectively.
Vietnam has become the 12th largest electronics exporter in the world and the third largest in ASEAN.
However, localization in the industry is only 10 percent. Only simple and easily made components are made in Vietnam and very few Vietnamese enterprises can join multinationals' supply chains.
Samsung Vietnam has 40 Vietnamese vendors, but there are hundreds of components that need to be localized. Canon Vietnam has 147 vendors in Vietnam, but only 20 are purely Vietnamese.
Vietnam is one of the world's electronics production bases, but local enterprises' participation in the production base is modest.
Economist Nguyen Dinh Cung, former head of the Central Institute of Economic Management (CIEM) said that even though electronic exports are high, the contribution to the economy is low. A country that uses many inputs from other countries in the production process is in effect generating income for other countries.
Man Chi Trung, CEO of An Trung Industries, said that industrial production is developing and that supporting industries are also developing proportionally.
With about 100 million people, demand for electronics, cars and motorbikes is high, which has prompted investors to build factories to make components for the electronics, automobile and motorbike industries.
The challenges for investors, however, include higher initial investments than in other business fields, as factories need modern machines and production workshops need to satisfy high standards. It is also necessary to spend a lot of money on worker retraining.
Trung said that except for rent remission, his company has not received other support, especially in capital and technology.
In China, enterprises in supporting industries receive help from the government in terms of land, capital and tax, and businesses are connected to specialists and foreign research units. In Vietnam, enterprises have to do this alone.
More help needed
Analysts say many foreign corporations are pouring capital into Vietnam to manufacture chips. Investments in production of semiconductor devices is unprecedented in Vietnam. This is a great opportunity for Vietnam to learn and master the technology for chip manufacturing.
Bui Trung Nghia from the Vietnam Confederation of Commerce and Industry (VCCI) said that to grasp the opportunity, enterprises need to seek solutions to transform production processes and improve productivity. Meanwhile, the government needs policies to encourage investment.
Nguyen Hoang, Head of Hanoi Association of Enterprises in Supporting Industries, said that the policy to encourage the development of supporting industries would be laid down soon so as to support enterprises in capital, labor and workshop infrastructure, as well as connect with multinationals present in Vietnam.
Pham Tuan Anh, deputy head of the Ministry of Industry and Trade's (MOIT) Industry Department, said that Vietnam issued Resolution 115 in 2020 to promote supporting industries. Accordingly, the enterprises that manufacture products in supporting industries and key mechanical engineering products, can enjoy the interest rate subsidy of 5 percent per annum at maximum.
He said foreign invested enterprises (FIEs) in Vietnam can receive big support from parent corporations or financial institutions of home countries, while Vietnamese enterprises have to pay very high interest rates. The new policy will settle the problem and help enterprises in the supporting industries a lot in their development.
Tran Thuy