A new center of supporting industries is gradually being formed in the South Central Region. This field has been contributing an important and indispensable part to the success of the industrial sector in general and the socio-economic sector in particular.
​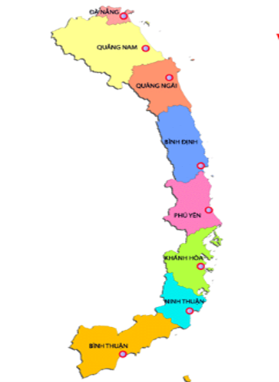 For the region of the Central and Central Highlands, Da Nang is considered the economic center of the whole region. In order to take advantage of infrastructure, human resources and the market, many technology projects have been invested in Da Nang. However, because most raw materials and machinery and equipment are still dependent on imports, the added value of the supporting industry is still low, the output is not much.
Director of Da Nang Department of Industry and Trade – Ms. Le Thi Kim Phuong said: In Da Nang, enterprises are able to participate in supporting industry activities to reach about 110 enterprises, mainly FDI enterprises producing for export.
Da Nang has set a target for the period 2021-2030, the locality will focus on attracting and calling for investment from large corporations and companies in the development of supporting industry products, looking for leading enterprises to lead, transfer technology, create a spillover impact to develop the local supporting industry.
With the same goal, Quang Ngai province has shaped the development of the support industry very early. The province clearly determines that it will prioritize investment attraction in Dung Quat economic zone and will have a project in each stage. However, up to this point, the number of manufacturers and suppliers of supporting materials and products has not been much, not met the expectations of Quang Ngai province.
In the face of the above-mentioned issues, with the goal of improving the localization rate and increasing the value of industrial products, gradually participating actively in the global value chain, Quang Ngai province sets a goal for the period 2020-2025 to promote the development of supporting industries, focusing on prioritizing the development of supporting industries and products for the petrochemical refining industry; metal production, mechanical engineering, textile and garment manufacturing, shipbuilding…
In addition to Da Nang and Quang Ngai, Binh Dinh province also faced similar difficulties. Although this province has been very clear about the importance of developing the supporting industry, so to attract investment in this type of business, the province has soon planned and invested in large industrial parks. However, up to now, the proportion of supporting industries in this locality compared to other localities is still low.
Entering a new stage of development, in order to make Binh Dinh a leading province in the Central region, Binh Dinh province is calling for Korean and German enterprises to invest in supporting industries such as automobile supporting industries, electronic component manufacturing, energy, etc., while supporting the province's enterprises to participate at a higher level in the supply chain and value…​