Over the years, Vietnam's mechanical engineering industry has witnessed many positive signs, starting to master design and manufacture, helping to increase the localization rate in many sectors, and contributing to the industrialization and modernization of the country. According to the Ministry of Planning and Investment, it is forecast that by 2023, foreign direct investment (FDI) into Vietnam could reach US$38 billion. Many businesses have seized this opportunity to invest, research, apply and transfer technology to join the global value chain.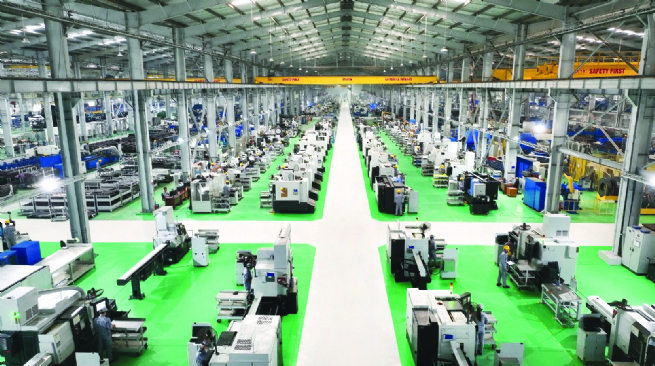 The mechanical center can provide various products, serving many industries
Acknowledging that the autonomy of an industry comes from its supporting industries and opportunities from the current supply chain shifts in process manufacturing, mainly in mechanical processing, THACO INDUSTRIES has chosen to pioneer in investing and developing high-tech mechanical engineering. Besides, the corporation has promoted joint ventures and associations to improve mechanical processing capacity and autonomy in production, joining the global supply chain more deeply.
Pioneering the development of mechanical engineering – The foundation of an autonomous industry
Since 2003, THACO has formed the strategy to develop its mechanical business to increase the localization rate. And on December 17, 2022, THACO announced the establishment of Truong Hai Industrial Group (Thaco Industries), its sub-holding specializing in mechanics and supporting industries.
From just focusing on making mechanical components for the automobile industry to increase the localization rate, THACO Industries has gradually mastered its technologies, not only in OEM but also doing its own product R&D, providing complete mechanical products with high technological content to serve the automotive, industrial production, agriculture – forestry, and civil construction.
Instead of ordering loose parts OEM as before, most of its customers now have turned to order completed products involving the full range of stages, i.e. design – selection of materials – cutting – processing or manufacturing – welding – painting – assembly – delivery to optimize logistics costs and time.
To meet the customer demands in Vietnam and exporting markets, from only performing roughing, punching, stamping and welding, THACO INDUSTRIES has been investing in modern technologies such as Automatic welding robots; Fiber laser cutting machines; slitting line; zinc-electroplating line; powder coating line, etc., enabling it to manufacture hi-tech and high-precision details and products, such as crane base and Liebherr crane.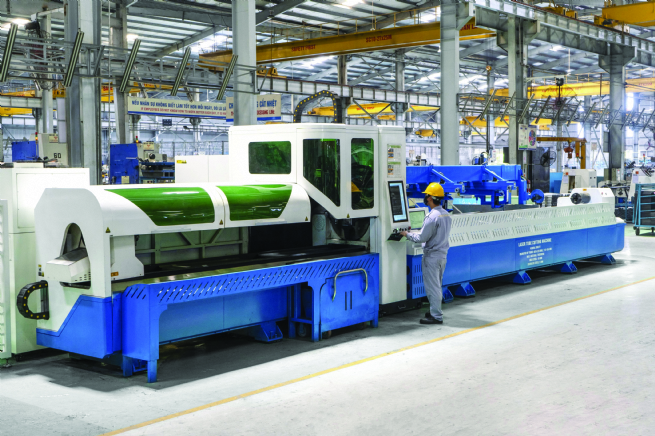 Square steel, tube steel laser cutting machine
In manufacturing crane bases and Liebherr cranes, sub-welding is the most critical stage, requiring absolute precision quality. Being able to perform this technology is a premise for THACO INDUSTRIES to continue its autonomy in the industry and to affirm its production capacity, evidently in the capabilities to make complex products such as RTG cranes, to expand new joint ventures and cooperation with partners to make part of STS cranes, and to make specialized machines and equipment for industrial and agricultural fields.
On the other hand, to make customized products and be proactive in the production chain, THACO INDUSTRIES has been upgrading its mold production capacity. With modern equipment including 5-axis CNC milling machine, hydraulic die-spotting press machine, CNC gun drilling machine, double head EDM machine, wire cutting machine, the Molds Plant has manufactured various products, including injection molds, extrusion molds, SMC molds, cold stamping molds, heat press molds, PU foam molds and more.
Increased investment, deeply joining the global supply chain
Facing fierce competition against FDI enterprises and rapid advancements in science and technology, Vietnam enterprises must expand their scale and put more money in modern, automated production lines and equipment to achieve production automation. THACO INDUSTRIES has invested in its leading mechanical center in Vietnam applying the most modern technologies. The center can supply the market with around 390,000 mechanical products and molds, and more than 200,000 tons of steel, steel structures, and precision mechanical products each year.
To create high-tech products that meet globalized standards in the new industrial revolution 4.0, THACO INDUSTRIES started the construction of a modern R&D center with a total investment of more than US$20 million, home to 1,000 experienced experts and engineers. The center has heavily equipped systems of specialized design software, modern machines and equipment for its testing laboratories to improve product quality.