Developing supporting industries, increasing localization rate are considered the foundation and urgent requirement for the development of Vietnamese automobile industry, and at the same time create a driving force for other industries. In the context of increasingly deep integration and fierce competition with imported vehicles from the ASEAN region and many countries around the world, investment in supporting industry development to increase the localization rate, step by step taking part inglobal value chains is the direction chosen by many enterprises to improve their competitiveness and sustainable development.
From the reality of Vietnamese automobile industry and its production and business practicality, right from the beginning of investment in Chu Lai Open Economic Zone in 2003, regarding the investment in factories of spare parts and accessories with modern technology, THACO has developed a strategy for localization and participation in global value chains.
Specifically, besides investing in new construction and upgrading of automobile production and assembly factories towards automation, digitalization management for mass production according to customers' specific requirements, THACO invested in building the largest automobile parts manufacturing industrial park in Vietnam in Chu Lai Open Economic Zone, Quang Nam province with a scale of nearly 100 hectares.
In this place, there are 12 factories manufacturing components – spare parts and Mechanical Complex that not only supply THACO'sautomobile assembly factoriesand domestic enterprises but also export to ASEAN markets and other countries around the world. Products from these factories include: interior and exteriorcomponentsof buses, trucks, passenger cars; composite components; tweezers; glasses; air-conditioner; Ceiling Boarding; TapiCarpets; passenger car bumpers; car body; seat and upholstery; wire set; chassis and many other spare parts and accessories.
The factories have technology transferredfrom Japan, Korea with state-of-the-art machinery and equipment and the implementation of intelligent management throughout the value chain from ordering, manufacturing to distribution.
A typical example is Tweezer Factory with production technology transferred from Daewon Corporation – Korea with modern systemof production linesand machinery such as heat treatment line, ram line, blasting cleaning line, zinc dip coating lineand quality control equipment in each stage. Plastic Component Factory is equipped with a 3200 ton injection molding machine system, the most advanced plastic coating technology in Vietnam with painting robot and automatic coating system. Automobile Seat Factory is invested with modern automatic machinery imported from Europe,Korea, producingseats for many types and brands of Automobiles.
To master technology and design, THACO invested in building R&D Center, improving capacity of research and develop spare parts and accessories; At the same time, strengthening joint venture and networking with business partners to receive new technology transfer in order to increasetechnology content in products and provide technical support for the production of spare parts and accessories of trucks, buses and passenger cars based on technology transferred from Korea and Japan.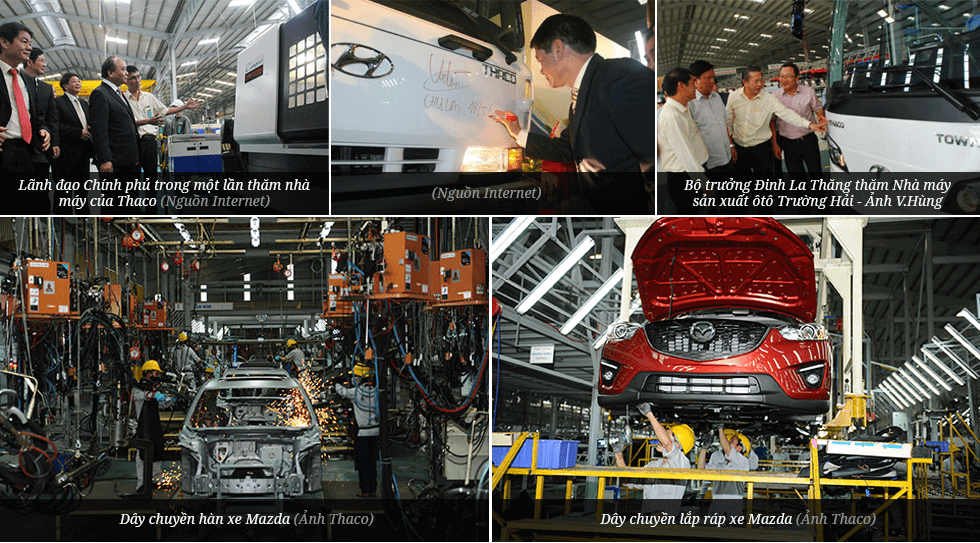 Up to now, THACO has mastered the technology of manufacturing components such as glasses, seats, tweezers, wires, mechanical components (moving parts of passenger cars, car trunks, exhaust pipes, hydraulic cylinder, bus frames, punching components, etc.), plastic components (plastic barriers, interior plastic components, etc.), air conditioning systems, composite components, etc.
Investing in developing spare parts and accessories factories, THACO increased the localization rate of some car models to over 40%, meeting RVC criteria (Regional Value Content) to enjoy the 0% tax rate when exporting to ASEAN markets; at the same time exporting automobile spare parts, step by step participating inGlobal value chains. The most exported products are bumpers, passenger car wire set, car tweezers, passenger car upholstery, etc. Main export markets include Korea, Japan, Russia, the Philippines, Kazakhstan, Malaysia, Singapore, Turkey, Bangladesh, Thailand, Indonesia, Australia, Germany. THACO's export value of spare parts and accessories in 2018 reached more than 20 million USD. In the coming time, the company will expand export markets to Europe and America. It is expected that in 2019 the export value will reach 25 million USD.
Currently, THACO continues to invest in building new supporting industry factories towards automation; establishing factories manufacturing Mazda spare parts and accessories when the output is large enough (50,000 units / year) under the forms of joint venture, cooperation, technology transfer with business partners who are component suppliers to Mazda Japan; joint venture and cooperation with foreign business partners to invest in the construction of factories producing products for export in THACO Chu Lai Industrial Park; cooperating with suppliers of Kia Motors to produce Kia passenger car spare parts and accessories with high-tech content; participating in the OEM component supply chain for automobile manufacturers and assemblers in Vietnam and partners of Kia and Foton. In addition, THACO also devises a strategy to develop products beyond the automobile industry based on existing technology platforms with suitable quality and competitive prices to meet customers' needs.