Located to the east of Southeast Asia, lies a humble nation of 96 million — Vietnam. It used to be one of the world's poorest nations until strong economic reforms took hold in 1986.
Coupled with the effects of globalization, Vietnam was pushed straight into a middle-income economy in just one generation, and has been on track to higher economic development since.
Cross-border e-commerce in ASEAN
ASEAN is a growing digital economy behemoth — Google, Temasek, and Bain predicted, in their yearly e-Conomy SEA report, that the region would reach a US$1 trillion digital economy by 2030. 
This prediction grows even stronger as the Regional Comprehensive Economic Partnership (RCEP) kicked in on Jan. 1 this year, which would remove up to 90% of cross-border trade tariffs on exports and imports within 20 years for member nations.
The speed with which ASEAN is digitalizing cannot be understated. The Covid-19 pandemic, whilst a horrifying blight on the world, played a part to accelerate digitalization globally, especially in ASEAN.
Lockdowns around the region had pushed consumers to obtain their goods and services through online means. This drove more people online, not just for work, but also for entertainment, shopping, food, groceries, and more.
Google, Temasek, and Bain's report highlighted that SEA's tenacious growth is primarily driven by e-commerce and food delivery, and both verticals are expected to propel the region's internet economy forward in the next decade.
A report by Deloitte last December tracked the growth and state of cross-border digital trade within the Asia Pacific.
It broke markets down into three segments: Mature, developing, and emerging.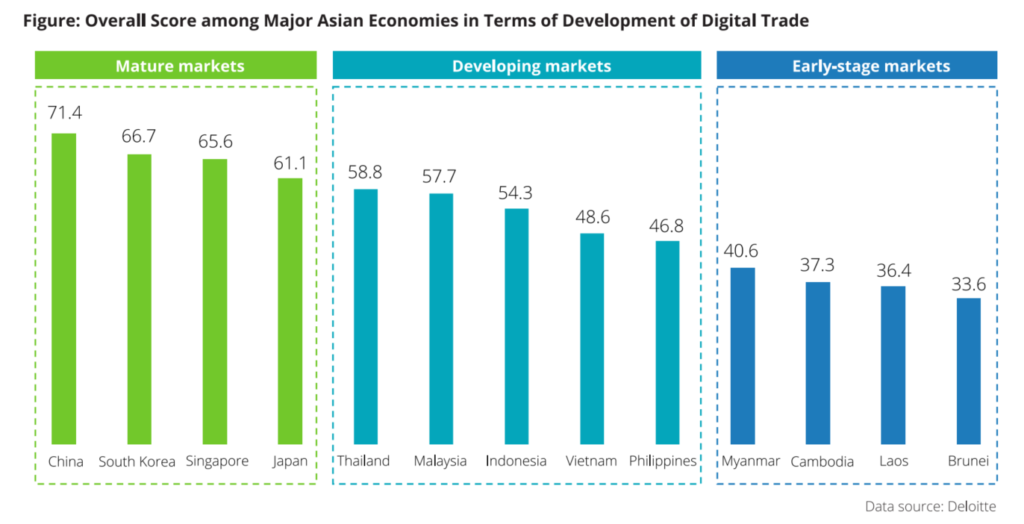 Generally, mature markets see rapid growth in Europe, America, and Southeast Asia. Developing markets mainly expand sales into the Asian markets.
Over 80% of cross-border e-commerce businesses in Indonesia, Malaysia, the Philippines, and Vietnam believe that the Southeast Asian market has the fastest growth.
These are the top three sales fields in cross-border e-commerce amongst APAC countries: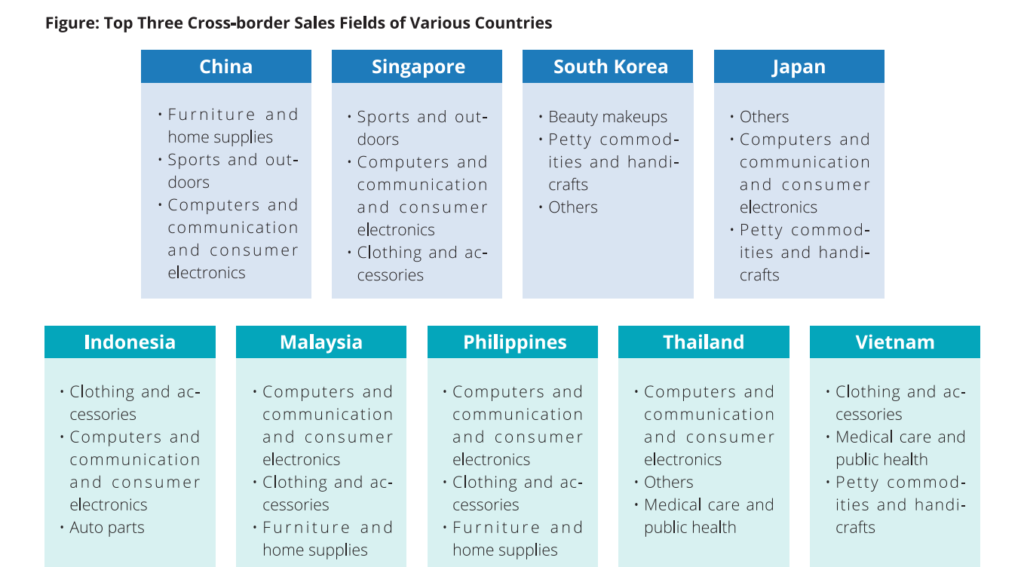 Vietnam: A manufacturing hub
Vietnam is well known for being a hub for manufacturing operations, especially by higher-income nations who are adopting the "China plus one" strategy.
Also known as 'Plus one', it is a business strategy where companies diversify investment into countries other than China in order to reduce reliance on China.
Costs of doing business in Vietnam, especially for manufacturing, are low, due to affordable overheads such as for buildings, land, and labor.
It also comes with progressive taxation policies for foreign companies, as well as benefits for companies who utilize green energy or have plans for incorporating it.
Vietnam has proper policies to support FDI promotion, and a greater focus on establishing a liberal neutral environment.
It also provides necessary conditions for the effective decentralization of FDI management and promotes the support of other industries and closer consultation with existing and potential investors.
But perhaps the most compelling aspect of doing business in Vietnam lies in its geographical location and accessibility. Vietnam's manufacturing and processing sector were the largest in terms of FDI, at 58.2% in 2020 — and for good reason.
The nation is very geographically strategic, and compared to most of its neighbors, is highly accessible to major trade and freight routes in and out of Southeast Asia and Asia.
It has a multitude of international airports, seaports, and rail links — all of which facilitate production flow and its requisite logistics.
The Vietnam manufacturing advantage?
As compared to its regional peers, it is the highest on digitalization in production and manufacturing, in relation to cross-border e-commerce.
In the previous figure, Vietnam seems to be steadily rising and doing decently in digitalization across most other facets of e-Commerce as well.
Generally, the APAC region finds high logistics costs the most challenging aspect of cross-border e-Commerce — except for Vietnam. As you can see in the table below, 61.8% of businesses in Vietnam find difficulty in customs clearance inspection the biggest challenge to cross-border e-Commerce.

The generally low percentages across other e-commerce domains suggest that Vietnam has relatively little issue with logistics, marketing, and costs, which makes it easier to target the areas that can be further improved to facilitate cross-border trade.
Whilst it is still a ways to go for Vietnam to breach into the more advanced digitalization aspects of e-Commerce such as in logistics and payments, just from its digitalization levels in production alone, Vietnam looks set to surpass stalwarts such as China and even Malaysia in certain manufacturing areas.
No doubt Covid had thrown a wrench in the country's plans in the past couple of years, with higher vaccination rates and a return to the factories, as well as the Regional Comprehensive Economic Partnership (RCEP), Vietnam looks set to continue leading the region in manufacturing and production — for the foreseeable near future, at least.