Despite global uncertainties, Vietnam remains attractive to foreign investors, drawing 20.21 billion USD by the end of September, up 7.7% year on year.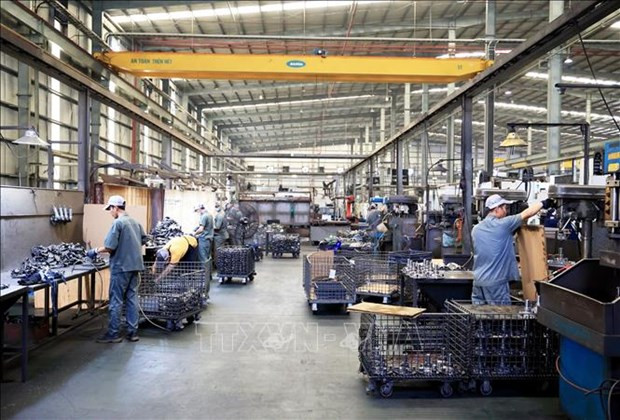 A FDI factory in Giang Dien industrial park in Dong Nai province. (Photo: VNA)
Of the figure, 15.9 billion USD was disbursed, marking a 2.2% increase year-on-year.
According to its latest Vietnam Economic Update, the World Bank noted that stable commitments and disbursement of foreign investment reflect the interest of foreign investors in business opportunities in Vietnam despite global uncertainties.
In particular, traditional investors such as Singapore, China and Japan are increasingly reaffirming their trust and determination to maintain or expand their operations in Vietnam. They are working to realise strategic goals of making Vietnam a manufacturing hub for high-quality products to join the global production and supply chains with fierce competitiveness.
In the southern province of Dong Nai, over 120 foreign-invested projects worth nearly 940 million USD were recorded in the first nine months of this year, or nearly 134% of the annual plan.
During the period, Dong Nai licensed nearly 50 new FDI projects, 17 of them from China with total capital of around 150 million USD. Most of them involved in renting factories for production and trade in apparel, electronics and household appliances.
Forecasts indicated that FDI attraction and disbursement will continue picking up in the coming months, which will be an important additional source of support to make up for limitations in other economic sectors.
Don Lam, CEO and Founding Partner of VinaCapital Group, said preliminary surveys showed that foreign investors are particularly interested in the green transformation and the potential of the consumption sector in Vietnam, especially in the semiconductor and chip industry. This presents an opportunity for Vietnam to attract more long-term capital inflows, contributing to sustainable economic growth.
Apart from general measures to stabilise macroeconomic conditions, improve infrastructure and workforce, Vietnam is focusing on building and developing an ecosystem for sci-tech, innovation, and entrepreneurship that is aligned with the digital business environment. Furthermore, there will be ongoing efforts to simplify investment procedures, making it easier for businesses to start and grow, said Minister of Planning and Investment Nguyen Chi Dung./.VNA