Vietnam, Japan foster cooperation in aerospace supporting industry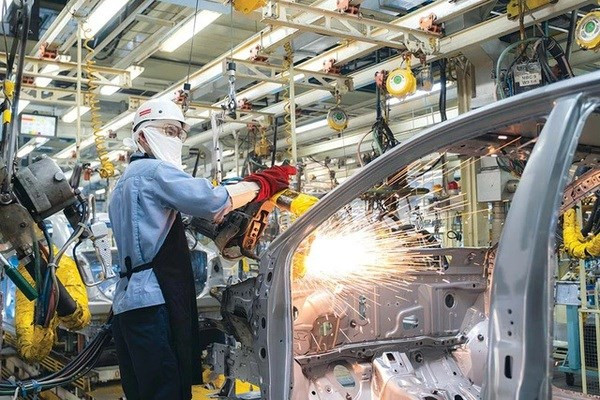 A conference was held this week at the Kobe Chamber of Commerce and Industry (KCCI) headquarters in Japan to seek measures to promote Vietnam – Japan cooperation in manufacturing components and products of the aerospace industry.
Addressing the event, Chairman of the Hanoi Supporting Industry Association (HANSIBA) Nguyen Hoang highlighted advantages of the two countries in economic cooperation, including the Vietnam – Japan extensive strategic partnership, Vietnam's strong workforce and various bilateral and multilateral economic agreements, and Japan's rich experience in the aerospace industry.
He said that the conference was part of activities to specify Vietnam's industrialisation programme within the Vietnam-Japan cooperation framework, especially in supporting industries and high-technology, aiming to connect businesses in the supporting industry of Hanoi and Vietnam and their partners in Kobe and Japan in these fields.
Jon Liljia, Boeing's Supply Chain Business Development Manager, expressed his hope to directly work with Vietnamese manufacturers.
Meanwhile, Ishida Takayuki, a representative from Onaga Japan Company, underlined the potential of Vietnam's aviation component market amid rising travelling demands both inside the country and in the region.
Onaga Chairman Onaga Masaru affirmed that the company will continue to work closely with Vietnamese businesses in the supporting industry to manufacture high-technology components such as aircraft spare parts.
In order to remove obstacles facing Japanese investors, members of the HANSIBA has formed a supporting unit. The unit is tasked to coordinate with Japanese firms in processing administrative procedures such as requesting for investment, construction and import licences, and supporting them in recruiting and human resources training following Japanese standards.
Hoang held that the Vietnamese supporting industry community has recorded positive development with the manufacturing of products joining the production chains in Japan and the world, along with aerospace components, renewable energy products and smart products serving the marine economy.
VAT proposed to be reduced to 5-6 percent to boost domestic demand
The recent VAT reduction to 8 percent is not sufficient, and a further reduction to 5-6 percent is necessary to stimulate domestic market demand.
At the seminar titled "Removing obstacles, promoting economic development of Ho Chi Minh City", organized by Nguoi Lao Dong (Laborer) Newspaper on May 16, Dr. Truong Minh Huy Vu, Deputy Director of the HCMC Institute for Development Studies, highlighted the challenging economic situation. He mentioned that all forecasts indicate economic difficulty. In particular, HCMC's economy grew by only 0.7 percent in the first quarter of 2023, clearly reflecting this situation.
Currently, HCMC is making strong efforts to accelerate public investment disbursement, but only the disbursement rate of the Ring Road No.3 project has shown a significant increase. Progress in the districts is still sluggish due to the lack of active participation from local authorities.
Dr. Tran Du Lich, a member of the National Financial and Monetary Policy Advisory Council, shares a similar viewpoint, stating that HCMC's economy experienced a significant decline in the first quarter of 2023. With its special openness, HCMC prospers when the macroeconomic conditions are favorable but faces disadvantages when conditions are unfavorable. Overall, the economic outlook for the first four months of the year is not promising.
According to Dr. Tran Du Lich, there is an opinion that the economy could pick up from the end of the second quarter of 2023, but this is highly unlikely if it is based solely on a few market indicators. While the revenue from goods and services in the first quarter of 2023 showed positive growth, it started to slow down in April, indicating a low market purchasing power. The tourism market experienced some initial recovery, but the number of tourists has been gradually decreasing. Additionally, the pillars of export and public investment have not seen any significant increase.
To expedite economic recovery, Dr. Tran Du Lich recommends increasing market purchasing power through the implementation of domestic demand stimulus policies using tools from both the government and businesses. Specifically, the government should continue to study the reduction of value-added tax (VAT) by industry, as the recent reduction to 8 percent is not sufficient, and further reduction to 5-6 percent is necessary to stimulate domestic market demand. Additionally, efforts should be made to promote consumer credit and encourage businesses, including the tourism sector, to engage in campaigns that offer price reductions. Neglecting domestic market stimulation in the current challenging export environment could lead to inventory constraints and significantly impact production and business operations.
Alongside resolving immediate issues, it is crucial for the authorities to implement structural solutions to attract public investment, particularly in the real estate sector. Dr. Tran Du Lich emphasized that revitalizing the real estate market is essential, as its stagnation would greatly affect associated businesses.
In relation to market revitalization, Assoc. Prof. – Dr. Tran Dinh Thien, former Director of the Vietnam Institute of Economics, highlights the substantial risks in the domestic market while the global market continues to experience volatility. Furthermore, policy risks pose a concern as recently implemented policies are frequently revised, creating challenges in overcoming obstacles. As a result, many units are hesitant to take action due to uncertainties surrounding policies. Consequently, it is imperative to recognize and address these issues effectively.
Specifically, HCMC has put forth numerous commendable initiatives in recent times, such as the urban government model, but they have not been effectively implemented. The existing growth constraints and obstacles, including traffic congestion, flooding, and insufficient infrastructure, have not been adequately addressed and, in some cases, have even worsened. Additionally, there is a dearth of new driving forces to stimulate further development in the city.
To achieve significant progress, HCMC requires pioneering projects like the Can Gio International Transshipment Port, the international financial center, and the commercial center, supported by institutional breakthroughs to attract major investors to the city. It is because the challenges faced by HCMC are not confined to the city itself; they are also national concerns. Breakthrough mechanisms and policies for HCMC have implications for the entire country, as the city plays a pivotal role as the nation's leading locomotive. Only when the locomotive gains strong momentum can it propel the entire train forward.
Vietnam's digital economy may reach US$49 billion by 2025
Vietnam's digital economy may take the lead in Southeast Asia with average growth of 31% a year and reach US$49 billion by 2025, said a report by Google, Temasek and Bain & Company.
Vietnam's online retail sales hit US$16.4 billion in 2022, accounting for 7.5% of the country's total retail sales of consumer goods and services. The rate is expected to rise to 10% by 2025.
The nation was the third-largest digital economy in the region with US$23 billion in 2022, after Indonesia and Thailand, said the Department of E-Commerce and Digital Economy under the Ministry of Industry and Trade, citing data from the report.
A survey conducted by the department showed that around 78% of Vietnamese internet users purchased goods through e-commerce platforms in 2022.
The figures reflected international optimism about the Southeast Asian country's digital economy and e-commerce growth.
According to the department, Vietnam was officially hooked up to the internet in 1997. Over the past 20 years, the internet has grown rapidly in the country and has become an important shopping channel for consumers.