Thanks to its advantages of demography, political stability, consistent economic management policies, and favorable investment environment, Vietnam is drawing a growing number of foreign investors. Many of them are confident that Vietnam is emerging as a new manufacturing hub.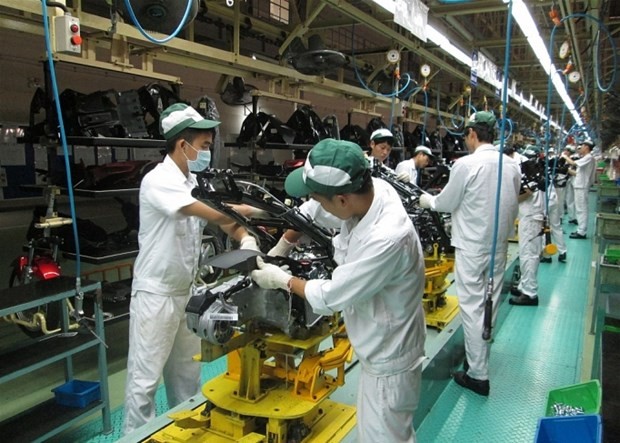 Vietnam – new stop for semiconductor producers (Photo: baoxaydung)
The webpage Vietnam-Briefing has recently reported that many multinational groups including Intel of the US and Samsung of the Republic of Korea plan to expand their investment in research and production of chip and semiconductors in Vietnam. This speaks volumes for Vietnam's potential as an emerging manufacturing hub and its ambition to continue growing in the foreseeable future.
Other online newspapers have reported that the US's giant chipmaker Synopsys will help Vietnam train engineers in designing circuits and set up a semiconductor chip design center in Vietnam.
Amid the technology race between powerful countries, especially between the US and China, high-tech businesses are shifting investment and training to Vietnam as a strategy to rebalance their operation. Vietnam's political stability, favorable investment environment, and consistency in policies have enabled it to participate more in the global supply chain.
Vietnam also has great advantages in terms of demographics structure. Mr. Fillippo Botorletti, Vietnam Country Director at Dezan Shira & Associates, said the main advantage of Vietnam in developing its semiconductor industry is favorable demographics with relatively low labor costs and plentiful human resources. He said Vietnam has an ambitious government that is opening the country to foreign trade and investment and adapting the local legal framework to international practices, a growing – and willing to learn and improve –ecosystem of entrepreneurs, and clear plans for the future development trajectory of the country
Early this month, the Times reported that Vietnam is on its way to becoming a new factory in the world. It said Vietnam's manufacturing sector is booming drawing the world's big businesses which has contributed to accelerating economic growth. Vietnam's manufacturing sector has created hundreds of billions of dollars worth of clothing, electronics, home furniture, and other goods.
In 2021, Vietnam's exports totaled 336 billion USD, up 19% from 2020 despite the COVID-19 pandemic.
FDI production made up 73% of Vietnam's export value last year. Apple plans to increase this figure with its partner Foxconn's 300 million USD project to build a new factory in Bac Giang province.
Mr. Phillipp Rosler, former Managing Director of the World Economic Forum said it's great that major tech groups are considering Vietnam in their plans which will increase exports among FDI businesses.