The manufacturing industry has made unexpected achievements despite the difficulties of the post-COVID-19 economy and the world's economic and political upheaval.
Steady growth
Optimistically, Vietnam's manufacturing industry grew 8.5% year on year last month, the fifth consecutive month of growth in the face of the pandemic.
Mr. Do Nhat Hoang, Director of the Foreign Investment Agency (FIA) under the Ministry of Planning and Investment, said, many foreign investors are still very confident in Vietnam's industrial growth and the investment environment in the new normal.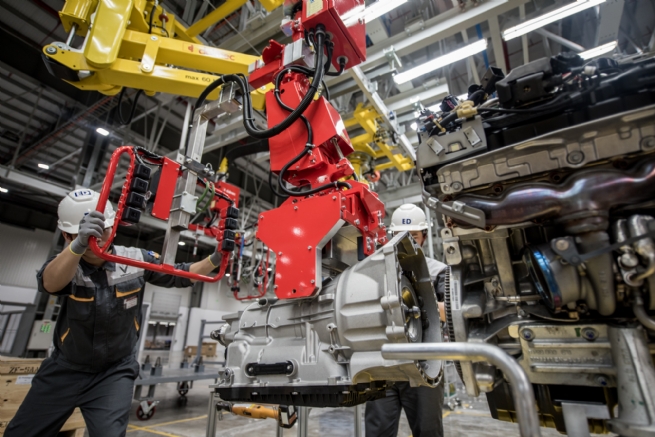 Mr. John Campbell, Deputy Director of Industrial Services at Savills, said it is undeniable that 2021 was a very difficult year, especially with the severe COVID-19 pandemic. However, in the past few months, particularly since the end of 2021, Vietnam has had some positive progress, with the latest being border reopening and visa exemption for citizens of 13 countries. This is very meaningful to investors and tenants which are multinational corporations that have not been able to come to Vietnam. They can directly come to visit projects, sign lease contracts and set up facilities in Vietnam as well as complete the investment registration certificate (IRC) and enterprise registration certificate (ERC).
Assessing market potential, he affirmed that the Vietnamese Government has been recently very successful in encouraging companies to move to Vietnam, especially in high value-added industries. Vietnam also offers tax incentives for companies engaged in technology or R&D, renewable energy and smart agriculture.
Mr. John Campbell added that the Vietnamese market has huge potential. There is a long way to go, but it is encouraging to see that the market has attracted more high value-added manufacturing and logistics sectors than in the past.
According to the Vietnam Industry Highlights of Quarter 1, 2022 recently published by Savills, one of the bright spots of Vietnam's industry this year is the impressive growth of foreign direct investment (FDI) flows into the market. Vietnam's economic support policies and successful vaccination campaign have created a solid foundation for foreign businesses to put their faith in the Vietnamese market recovery, he noted.
Specifically, realized FDI reached a 5-year high of US$4.42 billion, up 7.8% year on year. By locality, Binh Duong took the lead with a 29% share or US$2.3 billion, followed by Bac Ninh with 16% and Thai Nguyen with 10%.
By source, Singapore was the largest FDI investor in Vietnam in the first three months of 2022 with more than US$2.28 billion or 26% of the total, followed by South Korea with US$1.6 billion, or 18%. In particular, the giant manufacturing project of Lego Group in Binh Duong province made Denmark the third-largest investor with more than US$1.3 billion.
Uneven manufacturing by locality
There is a disparity in the manufacturing industry between the south and the north. Specifically, the southern key economic region led the country in total new investment funds for processing and manufacturing, totaling US$1.9 billion, nearly 4 times higher than that in the north.
Sharing about great potential industrial drivers in Vietnam, Mr. Matthew Powell, Director of Savills Hanoi, said, "The Vietnamese market has many attractive investment factors. However, businesses are facing high competition to find the right locations. Industrial real estate is still concentrated near large cities such as Hanoi and Ho Chi Minh City, and is located conveniently to airports and seaports. This has made the supply in these areas scarce and, at the same time, pushed up land prices."
Specifically by sector, investors will find different development opportunities and advantages throughout Vietnam. Each field will have its own requirements, he said. Many businesses give priority to large areas, low land price and accessibility to seaports and airports. Therefore, to boost investment inflows into more distant provinces, Vietnam needs to perfect the transport network, improve infrastructure and introduce economic support policies. Then, FDI inflows to the manufacturing sector will be spread evenly across localities in the country.
"Recently, we have noticed that real estate developers have grasped the supply gap and added more products to the market. As a result, manufacturers will have more options when they work in Vietnam. Nevertheless, investors still need to consider various environmental factors and visit the locations where they want to deploy. The research will take some time and this is what service providers like us can bring to businesses," Mr. Matthew added.
In addition to uneven distribution, the manufacturing industry in Vietnam also needs to take the world market and inflation into account. Economically, data from Trading Economics showed that Vietnam's Purchasing Managers' Index (PMI) of Vietnam's industry fell to 51.7 points in March from 54.3 in February. Although the index still pointed to strong business improvement, it is the lowest result recorded in the past six months. Industrial output also recorded the first decline in six months.
The decline was attributed to COVID-19-caused worker shortages and backlogged work from September 2021. Besides, the pandemic and the Russia-Ukraine conflict badly affected deliveries, pushing the shipping time to the highest level since last October. Inflation also became a big challenge as input costs increased most in nearly 11 years. Prices for oil, gas, raw materials and transportation costs also picked up.
By Huong Giang, Vietnam Business Forum