Hopes for improvements in market demand and new orders, alongside confidence that the Covid-19 pandemic will remain under control, supported optimism in production prospects for the coming year.
Vietnam's manufacturing purchasing managers' index (PMI) registered 52.5 in September, a fraction lower than 52.7 in August but still pointing to a solid improvement in business conditions across the sector.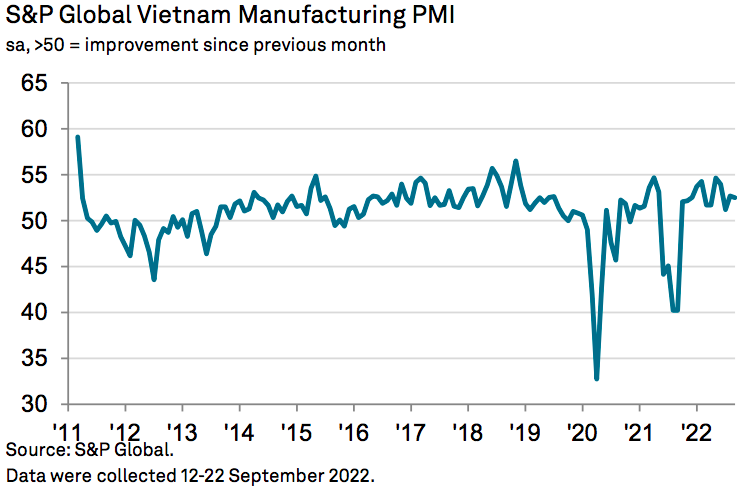 Operating conditions have now strengthened in each of the past 12 months, according to S&P Global.
A reading below the 50 neutral marks indicates no change from the previous month or even contractions; above 50 points means an expansion.
"The Vietnamese manufacturing sector continued to tick along nicely at the end of the third quarter, with the PMI having signaled overall expansion throughout the past year. A much more benign price and supply environment is providing support, while demand also improved again in September," said Andrew Harker, economics director at S&P Global.
"There were some tentative signs of new order growth slowing, particularly regarding exports. This was a factor in a renewed expansion in stocks of finished goods as some firms sold fewer items than expected. This may lead manufacturers to limit production growth in October. Still, business confidence remained strong, so the prospects for the year's final three months appear positive overall," he said.
Similarly, employment and purchasing activity each rose solidly again at the end of the third quarter. As well as responding to higher production requirements, firms also increased staffing levels to support new production lines.
Capacity expansions enabled firms to keep on top of workloads despite ongoing new order growth, as evidenced by a second successive reduction in backlogs of work.
In line with the picture seen in August, cost pressures were relatively subdued in September, with inflation much slower than recorded earlier in the year. Several respondents indicated that lower oil prices had helped them to reduce their cost burdens, although there were still some reports of higher raw material prices.
Meanwhile, output prices increased slightly during the month as some firms took advantage of muted cost inflation to offer customer discounts. However, the suppliers' delivery times were little changed, following an improvement in vendor performance in the previous survey period.
Again, this represented a much-improved picture than earlier in the year. Renewed inventory building was signaled across the manufacturing sector in September. Stocks of purchases increased for the first time in six months, linked to rising new orders and fueled by higher purchasing activity.
Similarly, stocks of finished goods increased for the first time since February and to the greatest extent in close to a year-and-a-half. Some respondents indicated that finished goods inventories had risen due to sales volumes exceeding expectations during the month. Hopes for improvements in market demand and new orders, alongside confidence that the Covid-19 pandemic will remain under control, supported optimism in the year-ahead outlook for production. Sentiment strengthened to the highest in four months during September and was above the series average.
Hanoi's industrial production has been firm on the recovery track and remained the main driving force for growth.
In September, the industrial production index expanded by 1% against the previous month and 13.6% year on year. Overall, for the nine-month period, the index grew by 8.6% year on year, reflecting the rising production capacity of businesses as they were pushing for the resumption of the supply chains after two years of struggling with the Covid-19 pandemic.