The Asian Development Bank (ADB) has maintained its favorable economic outlook for Vietnam as it forecasts gross domestic product (GDP) to expand 6.5% in 2022 and 6.7% in 2023.
Vietnam's economy recovered faster than expected in the first half of 2022 and continues to grow amid the challenging global environment, said ADB Country Director for Vietnam Andrew Jeffries. The steady recovery was supported by strong economic fundamentals and driven by a faster-than-expected bounce back of manufacturing and services.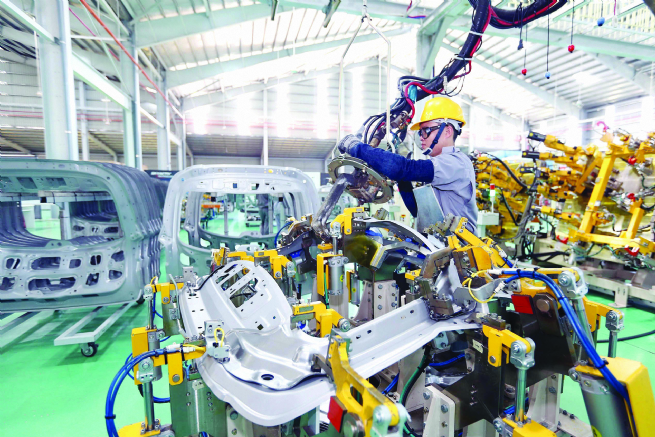 However, according to the Asian Development Outlook (ADO) Update 2022 recently released by the ADB, softening global demand has slowed manufacturing. The manufacturing purchasing managers' index (PMI) in August softened to 52.7 from 54.0 in June. However, the outlook for the manufacturing sector remains bullish given strong foreign direct investments in the sector.
Mr. Nguyen Minh Cuong, ADB's chief economist, said that increasing inflation in the United States and the European Union has heightened inflationary pressure in the country. However, Vietnam's prudent monetary policy and effective price controls, especially with regard to petrol, should keep inflation in check at 3.8% this year and 4.0% in 2023, unchanged from the bank's projection made in April 2022.
He said, Vietnam's economic rebound is expected to continue over the second half of 2022. Global food shortages and restored global food supply chains will boost agriculture production this year. But the forecast for agriculture growth is revised down to 3.0% from the earlier 3.5% projection because high input costs may still constrain the sector's growth.
Besides, softening global demand has already slowed manufacturing. Because of this, the forecast for industrial growth is lowered to 8.5% from 9.5% but the
outlook for industry remains bullish given strong FDI disbursement in the sector. Fully normalized domestic mobility and the lifting of COVID-19 travel restrictions for foreign visitors will support a rebound in tourism in the second half that will be stronger than was expected in April. This will drive services growth, revised up to 6.6% for 2022 from the earlier 5.5% projection. The raised forecast is nevertheless below services growth of 7.3% in pre-pandemic 2019.
Importantly, weaker global demand should slow exports, which affects Vietnam's economic recovery and development. The depreciation of the Vietnamese dong is making the value of imports more expensive than exports, which is expected to result in a trade deficit in 2022. High global inflation, though gradually decelerating, and tightened financial conditions will continue to depress remittances. Because of all this, the current account is forecast to turn into a deficit of 1.5% of GDP this year. A current account deficit, at 1.7% of GDP, is projected for 2023 on expectations of softer global growth.
Notably, according to ADB, the total investment is expected to rise this year. Although global geopolitical tensions and tightening financial conditions will continue to limit FDI inflows in 2022, FDI disbursement will be strong on the continued confidence of foreign investors and doing business in Vietnam becoming easier. A determined effort by the government to disburse public investment, including the implementation of the Economic Recovery Development Program, would offset the effect of softer exports caused by weaker global demand. The SBV will continue to pursue a flexible and prudent monetary policy by continuing to keep its policy rates unchanged. It will also roll out the interest rate subsidy program to provide low-cost financing for the economy. However, monetary accommodation, such as the interest rate subsidy, loan restructuring, and regulatory forbearance, could delay the classification of nonperforming loans, forecast at 5% of outstanding loans in 2022. Efforts to keep the exchange rate stable to support exports and imports could also stress foreign reserves.
"Risks to Vietnam's economic outlook remain elevated. The global economic slowdown could weigh more heavily on exports than forecast, which would worsen the current account balance," Mr. Cuong said.
He added, although aggressive interest hikes by the central banks of major economies have helped dampen global price pressures, an intensification of global geopolitical uncertainties could push up commodity prices, worsening inflation in Vietnam. A resurgence of COVID-19 infections is possible amid lower readiness in the healthcare system due to the recent resignations of many healthcare workers and shortages of medical equipment and drugs. A labor shortage would impede the fast recovery of services and the labor-intensive export sector in 2022. A failure to deliver public investment and social spending as planned could slow the growth of Vietnam this year and the next.
Quynh Chi (Vietnam Business Forum)