Vietnamese enterprises are looking for new opportunities amid shifting global supply chains and the volatile world economy, but restrictive policies could be in the way of this endeavour.
Manufacturing has been identified as the growth engine of Vietnam's economy, but the added value from the industry dropped sharply after the pandemic. While in 2019, the added value increased by 8.86 per cent compared to 2018, it only increased by 3.36 per cent in 2020 and 4.82 per cent in 2021, according to the General Statistics Office of Vietnam.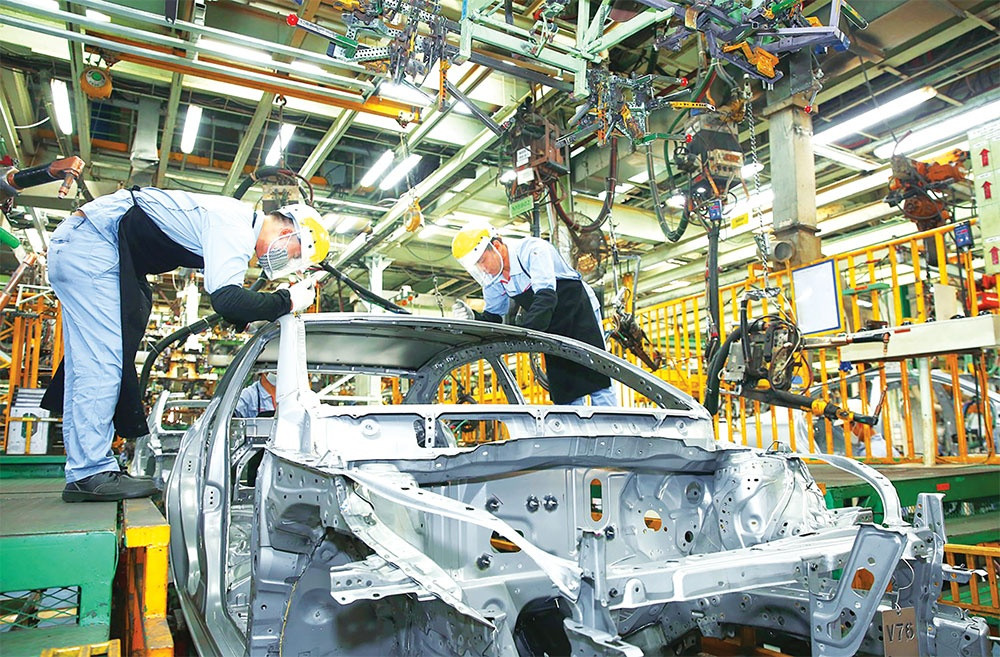 Vietnam's supporting industries seeking incentives – illustration photo
Tran Thi Thu Trang, director of Hanel Import-Export JSC, found the current processes tough, especially when it comes to being one step ahead to capture customer needs and orders.
"If you miss a beat, you are going to be 1-2 years behind in joining the global supply chain," Trang said. "The enterprise's capital has been poured into investment in machinery and equipment and needs support to invest in modern technology to make products more competitive. But currently, the state does not offer specific incentives for enterprises to invest in smart equipment and machinery."
Trang remarked that processing and manufacturing enterprises are facing three major problems. Firstly, it is difficult for Vietnam to squeeze into the supply chain. Next, price competition remains a challenge. Firms from other countries borrow money at an interest rate of 0.5-1 per cent while the average rate for Vietnamese ones is more than 6 per cent. Lastly, the country is short of production materials, and raw material imports cause input prices to increase, affecting enterprise competitiveness.
Do Thi Thuy Huong, vice president of the Vietnam Association of Supporting Industries, commented, "Investment in modern technology is currently weak. Vietnam lags behind and only takes part in the lowest part of supply chains, which becomes a disadvantage."
Huong realised that more processing and manufacturing enterprises, especially electronic enterprises, find it difficult to access bank capital. "Most businesses do not meet the conditions of collateral for bank loans while only a few have good business appraisal results from international financial institutions."
In processing and manufacturing, most enterprises are small and medium-sized, with limited development capacity and ability to meet requirements in the chain.
The grant of interest rate compensation under Resolution No.115/NQ-CP from 2020 on solutions to promote the development of supporting industries was expected to assist many businesses. The resolution emphasises the improvement of supporting industries to welcome new avenues of investment capital and production relocation to Vietnam. It also sets out targets for Vietnamese supporting sectors to be more competitive in providing supporting industrial products for manufacturing sectors. "These businesses are interested in credit support with a maximum compensation of 5 per cent," Huong said.
Risks to the economy from the manufacturing and processing industry have gradually appeared. The Ministry of Planning and Investment's data showed that, in the first nine months of 2022, the number of enterprises suspending their operations reached almost 99,000, an increase of over 25 per cent over the same period last year, while 32,400 enterprises have completed their dissolution procedures, an increase of 8 per cent.
Assoc. Prof. Dr. Pham The Anh, chief economist of the Vietnam Centre for Economic and Strategic Studies, said, "The GDP growth target of 6-6.5 per cent this year remains a huge challenge. The world economy is at risk of falling into recession, and the Russia-Ukraine conflict causes the prices of basic raw materials and energy to rise sharply. Meanwhile, Vietnam has a very large economic openness, with the total import-export turnover being more than twice the value of GDP. Thus, increasing prices in the world immediately affect Vietnam due to its inability to control natural resources and production materials."
The 2 per cent interest rate support package is still not finished, and the public investment support package that would serve as prime capital for the economy has not yet met the recovery needs of the economy.
According to Anh, the government has implemented tax and fee reduction programmes, but there are still massive difficulties for production, with prices of input materials increasing, leading to higher end prices of products. "This puts businesses in front of two possibilities, increasing selling prices or narrowing production," Anh said.
However, the Vietnamese economy has also shown signs of improvement in the manufacturing sector since the middle of the third quarter. The purchasing managers' index of Vietnam's manufacturing sector reached 52.7 points in August, up from 51.2 points in July, according to the August report released by S&P Global on September 1.
The report noted three highlights: stronger output, new orders, and employment. Input cost growth has slowed significantly, and supplier delivery times have been shortened for the first time in 33 months.
Initiatives from enterprises are still a basic requirement for the development of the manufacturing industry. For instance, the order situation of Lap Phuc Co., Ltd. was partly improved as the demand for moulds in the automobile industry gradually recovered in the US, European, and Japanese markets.
"We have invested in expanding our production to meet customer requirements," said Nguyen Van Tri, director of Lap Phuc.
The mould industry requires a large investment. Tri said that Lap Phuc often negotiates with customers to advance funds for the company to buy machinery. The company's investment capital has reached more than $10 million so far.
Source: VIR