Belonging to the Supporting Industry Development Program 2021 approved by the Prime Minister, VIMEXPO 2021 contributes to the realization of Resolution 115 of the Government, helping Vietnamese mechanical fabrication enterprises connect to develop.
Actual situation of mechanical fabrication sector
The mechanical fabrication sector plays a pivotal role, being the foundation and driving force for other industries to develop; having the function of providing all equipment for industries of agricultural product processing, transportation and equipment for national security protection.
However, the products of the mechanical fabrication sector currently have low competitiveness; investment of domestic enterprises is patchy and not consistent; closed and outdated production technology; equipment is slow to be renewed, the efficiency is not high; and is even not able to capture the domestic market share.
The general situation of most domestic enterprises is the lack of capital; manufacturing technology and equipment are still backward, production is still fragmented, unable to meet the increasing requirements for high-tech products; With little capital, it is very difficult to access capital from banks with low interest rates.
The investment of the mechanical fabrication sector over the past years has been scattered and not synchronized, there has not been any manufacturing unit that is strong enough to act as a lever to promote the whole industry. The coordination and collaboration have not been implemented yet due to the lack of necessary mechanical factors such as projects to produce high-quality and large volume forged and cast steel billets, applying state-of-the-art technology; lack of facilities with machines for processing large equipment; a shortage of high-quality human resources for the industry, including policy makers, managers, consultants, designers, skilled technical workers, etc.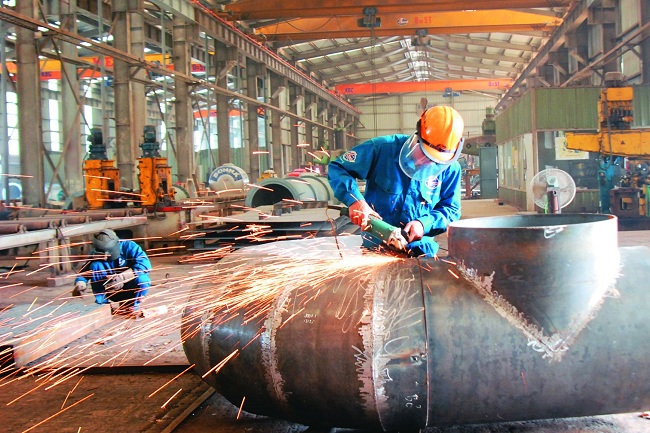 Products of the domestic mechanical fabrication sector have low competitiveness
Development prospects
According to Vietnam Association of Mechanical Enterprises, with a country of nearly 100 million people, the average economic growth rate is always at 6% – 6.5%/year, the size of the economy is over 250 billion USD, it is possible to guess that the market size of the mechanical fabrication sector in Vietnam in the period 2019 – 2030 is about 310 billion USD. That is the value of machinery, equipment and components for thermal power, hydroelectricity, chemical, mining and mineral processing (about 120 billion USD); construction machinery, agriculture and agro-forestry product processing (15 billion USD); standard equipment, such as fans, motors, hydraulic equipment, etc. (about 10 billion USD), equipment for high-speed railway (about 35 billion USD), urban railway (10 billion USD) ) and the automotive industry (120 billion USD). It is a "dream" market large enough to develop the mechanical fabrication sector.
Besides, with the fact that Vietnam has joined many Free Trade Agreements (FTAs) and multinational companies being able to shift production from China to third countries, it is considered a good development opportunity for Vietnamese mechanical enterprises in 2021 and the coming years. However, to seize this opportunity, businesses must standardize products, from raw materials to production stages and competitive prices. In order to do this, businesses must link together in a stronger way.
VIMEXPO 2021 helps enterprises connect to develop
On August 6th, 2020, the Government issued Resolution 115/NQ-CP on solutions to promote the development of supporting industries. In which, many solutions are proposed close to the development of the mechanical fabrication sector, such as continuing the incentive policy of interest rate for mechanical fabrication enterprises ; improving enterprise capacity through building technical centers to support regional mechanical development from central and local investment capital; promoting linkages between Vietnamese enterprises and multinational enterprises, etc.
With the goal "Connect to develop", VIMEXPO 2020 is the first specialized exhibition on manufacturing and supporting industries held to concretize Resolution 115 of the Government, offering feasible solutions to promote the development of supporting industries in Vietnam. VIMEXPO 2020 has received the support and participation of a large number of state management agencies, governmental and non-governmental organizations, specialized associations, trade promotion organizations and leading domestic and international enterprises operating in supporting industries.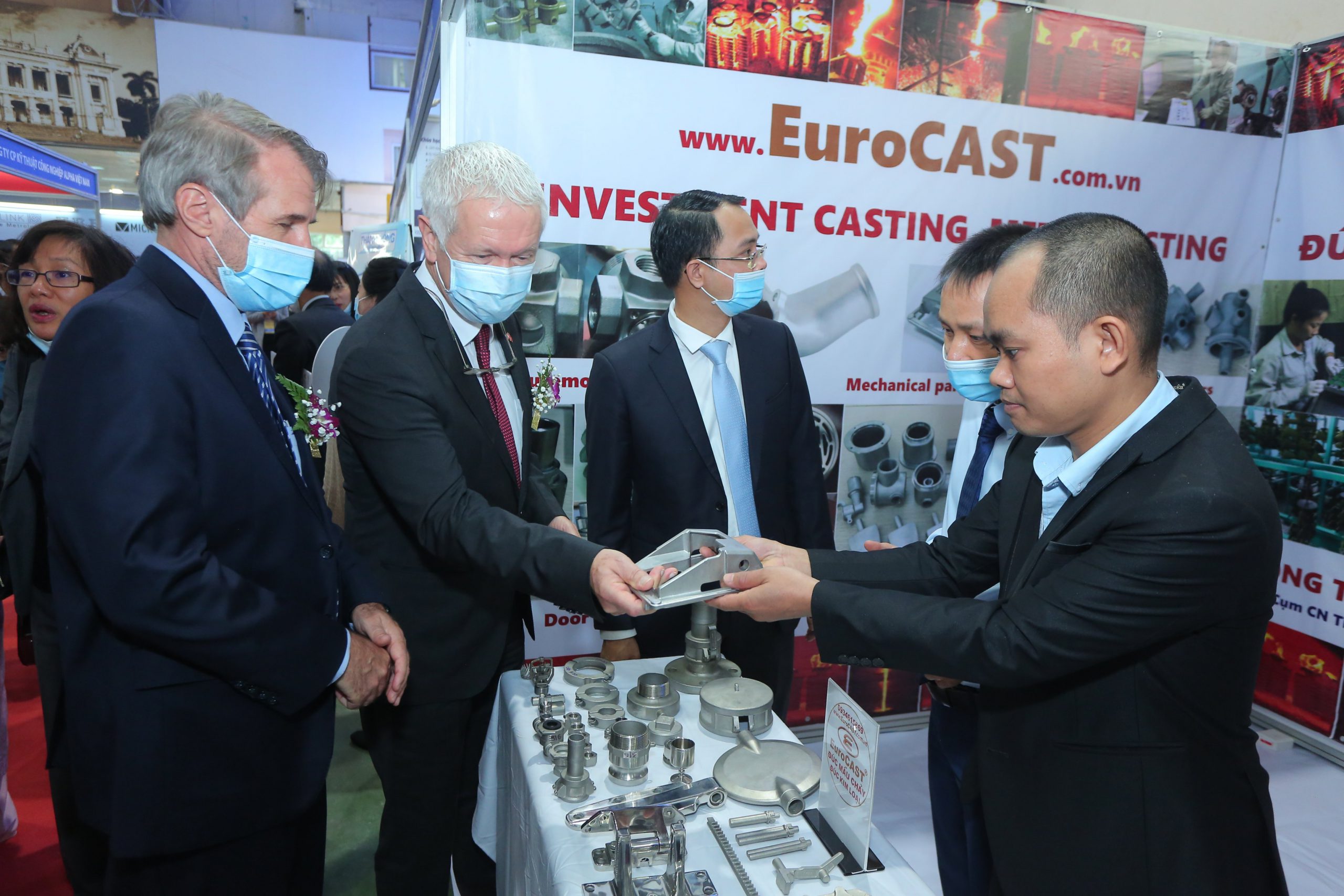 Representatives of international organizations visit the mechanical fabrication booth at VIMEXPO 2020
Following the success of the first exhibition, The 2nd Vietnam International Supporting Industry and Manufacturing Exhibition – VIMEXPO 2021 will return from October 27th to 29th, 2021 at Hanoi International Exhibition Center – I.C.E Hanoi, directed by Ministry of Industry and Trade, hosted by Industrial Development Center – Vietnam Industry Agency – Ministry of Industry and Trade, organized by C.I.S Vietnam Advertising & Exhibition JSC.
Belonging to the Supporting Industry Development Program 2021 approved by the Prime Minister, VIMEXPO 2021 has a display scale of 7000m2 with around 300 booths in the following industries: mechanical fabrication sector, automobile manufacturing and assembling, electronics, high-tech industry, leather and footwear, textile and garment. The exhibition will be an opportunity for Vietnamese and international mechanical fabrication enterprises to meet, exchange experiences, introduce new products and leading advanced supporting industry achievements, seek opportunities for cooperation and development.