The 3rd Vietnam International Supporting Industry & Manufacturing Exhibition – VIMEXPO 2022 was officially opened on the morning of November 16th, 2022, at Hanoi Int'l Exhibition Center.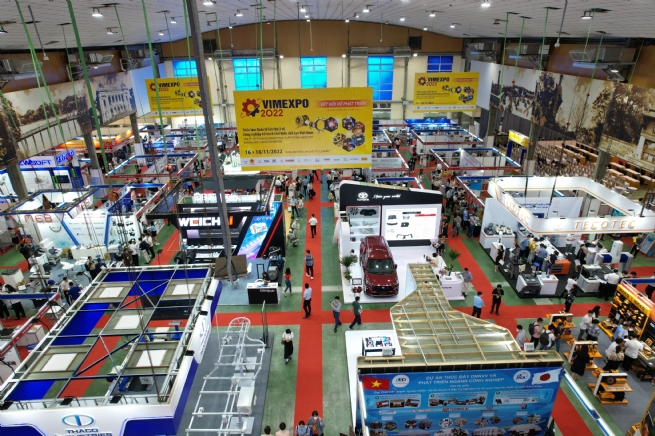 The exhibition is directed by the Ministry of Industry and Trade, hosted by the Industrial Development Center (IDC) and coordinated with C.I.S Vietnam Advertising & Exhibition JSC to organize.
VIMEXPO 2022 with the orientation "Connect to Develop" has been evaluated by prestigious domestic and international organizations, enterprises, and experts in the field of supporting and manufacturing industry as a favorable environment to help enterprises directly connect, search for new opportunities for cooperation, approach partners, expand markets, invest in production and business, improve competitiveness, and gradually participate in the global supply chain. VIMEXPO 2022 with the participation of more than 200 enterprises, about 300 booths displayed on an area of ​​nearly 5,000 sqm, has been affirmed to be the leading exhibition in supporting industry in Vietnam.
VIMEXPO 2022 has received the companionship of typical domestic and international enterprises such as Thaco Group, Vietnam Engine and Agricultural Machinery Corporation – VEAM, Toyota Motor Vietnam, Weichai, Samsung, Toshiba Asia, Hanoi Plastic, JICA, Kyoyo, Tecotec, Intech, MEB, Yangmin, Makitech, NTT Data… and enterprises from US, Germany, Russia, Japan, Korea, China… Exhibitors will introduce typical products with competitive advantages of the supporting industry in the field of Automobile manufacturing and Assembling; Mechanical Fabrication; High-tech industry; Electronics industry and other related fields.
At the Opening Ceremony of VIMEXPO 2022,  Mr. Pham Tuan Anh, Deputy Director of Vietnam Industry Agency said: "In the context that the Government together with the business community are making efforts to promote economic recovery on the basis of safe and flexible adaption to the Covid-19 pandemic, with the orientation "Connect to Develop", the International Exhibition on Supporting Industry & Manufacturing – VIMEXPO 2022 will be even more important in promoting its role as a bridge between Vietnamese enterprises and foreign enterprises, multinational corporations; creating opportunities to exchange and share experiences between agencies, organizations, associations and enterprises operating in the field of supporting industry and manufacturing; helping enterprises promote their products, technologies and investment opportunities; affirming the interest and support of the Government as well as the effort of Industry of Industry and Trade in the development of supporting industry and manufacturing in Vietnam.
Mr. Thomas Jacobs – Country Manager of Vietnam, Laos and Cambodia of International Finance Corporation (IFC) said: "Supporting enterprises in the field of supporting industry and manufacturing shift from low-cost manufacturing to higher-value segment production and increase access to digital technology will help to promote production efficiency and improve connectivity with foreign enterprises and global value chains. This will further enhance the competitiveness of local enterprises and push Vietnam forward on the path of industrialization and modernization."
Mr. Matsumoto Izumi – First Secretary of the Embassy of Japan said at the Opening Ceremony: "Vietnam is increasingly known for its supporting industry and manufacturing. Especially in the context that the world needs to diversify supply chains due to the impact of the Covid-19 pandemic, many companies related to the supporting industry and manufacturing in the world, including Japanese enterprises, are focusing their attention on the Vietnam market. According to JETRO and JBIC's survey of Japanese enterprises in supporting industry, Vietnam is the most attractive destination in ASEAN for new investment research and business expansion. It can be said that Vietnam's industrialization is making great progress. And what is indispensable for the steady production and growth of these industries is the development of supporting industry."
Mr. Min Moonki – Commercial Attaché of the Embassy of the Republic of Korea stated: "VIMEXPO is the leading exhibition on supporting industry and manufacturing. The exhibition is a place to display the most important achievements of domestic and global enterprises investing in Vietnam. The event shows how fast this industry is growing in Vietnam and opens up opportunities for exchanges between enterprises from many countries around the world."
According to Mr. Hiroyuki Ueda – President of Toyota Motor Vietnam (TMV): "VIMEXPO 2022 is a bridge for all manufacturers can meet, exchange experience, introduce products and expand their suppliers' network, as evidenced by VIMEXPO 2020-2021, Toyota Vietnam has connected with more than 20 potential suppliers and one of them became TMV supplier from 2021. Especially, at the event this year, Toyota Vietnam will launch CKD Veloz assembled in Vietnam. This is an important milestone for TMV, showing our effort to enhance localization and bringing "Made in Vietnam" product to Vietnamese customers. Through VIMEXPO 2022 with the orientation of "Connect to Develop", TMV hopes to promote supporting industry more strongly and connect with more potential local suppliers. TMV believes that VIMEXPO 2022 will be an opportunity for Vietnamese supporting industry enterprises to develop further."
With the orientation of "Connect to Develop", during the exhibition, a series of useful events are held at the same time such as Business Matching Activities (B2B) between domestic and international supporting industry enterprises; the specialized seminar on "Digital Transformation towards Smart Manufacturing" with presentations by representatives from  International Finance Corporation (IFC) with the topic "Digital transformation and future opportunities for Vietnamese manufacturing sector in the global value chain"; Toyota Motor Vietnam with the topic "To develop supplier's capability to gradually participate into the supply chain of auto industry in Vietnam"; Samsung Electronics Vietnam with the topic "Middle and long-term supporting strategy for Vietnam supporting industry with MOIT"; and distinguished speaker from Malaysia with the speech on "Sharing experiences of Digital transformation in manufacturing from Malaysia".
In addition, a series of performances to introduce new products and business matching activities between participating enterprises and interested enterprises will be held throughout the exhibition days. Activities will be live-streamed as well as regularly updated on the exhibition's website, Fanpage, and YouTube channel.
With the orientation of "Connect to Develop", VIMEXPO 2022 will be the bridge to help Vietnamese supporting industry enterprises participate more deeply in the global production chain and continue to affirm the role as the leading prestigious event of supporting industry and manufacturing in Vietnam. During the three days of exhibition, VIMEXPO 2022 is expected to attract about 15,000 visitors to visit and work directly.
Source: Vietnam Business Forum