On November 17, Vietnam Industry Agency – Ministry of Industry and Trade and International Finance Corporation (IFC) jointly organized the thematic workshop "Promoting digital transformation – towards a smart production model" within the framework of the 3rd Vietnam International Supporting Industry and Manufacturing Exhibition – VIMEXPO 2022.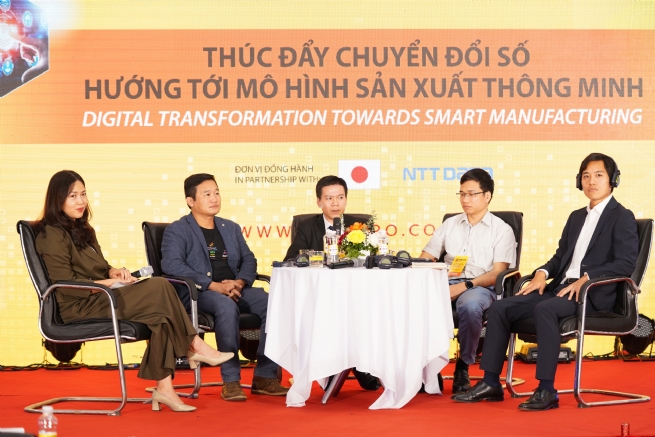 Supporting industry is considered an important component of the manufacturing sector in particular and the economy in general, acting as inputs for production and promoting the circulation of domestic goods. However, the COVID-19 pandemic had a strong impact on Vietnamese economy and negatively impacted the operations of many industries and businesses. Many enterprises' production and business operations faced difficulties due to the disruption of the supply chains, causing interruption or scarcity of raw materials, and the markets, particularly for export products, dramatically plummeted.
The 4.0 revolution broke out, becoming a new trend around the world. In particular, Digital Transformation emerged as an essential solution to help enterprises restructure their production operations towards smart innovation, human resource and technology improvement. There were difficulties and challenges together with such great opportunities that businesses had to face to access these huge opportunities.
Understanding businesses' concerns, representatives of the State regulators, the Center for Industrial Development Support – Vietnam Industry Agency, with the coordination of and support from International Finance Corporation, organized a thematic workshop to provide an overview of Digital Transformation in manufacturing, Smart Factory 4.0, and issues to be kept in mind when implementing Digital Transformation and smart production in enterprises, particularly in supporting industry in Vietnam.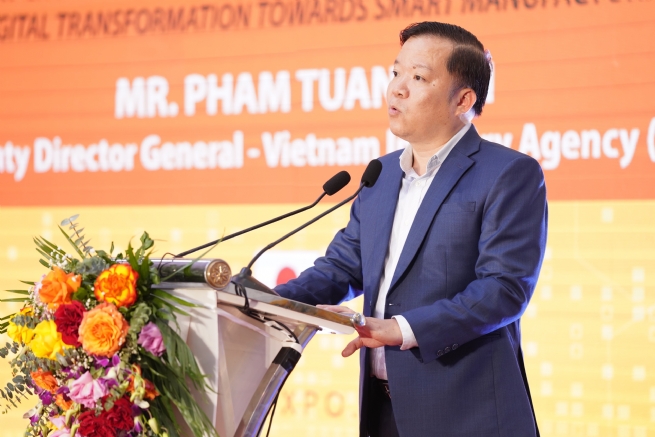 Pham Tuan Anh – Deputy Director of Vietnam Industry Agency
Attending the workshop, Pham Tuan Anh – Deputy Director of Vietnam Industry Agency, said: "The event is expected to bring a lot of value to businesses with sharing from specialists in the field of Digital Transformation, enterprises that have been applying digital technology in business, thereby helping Vietnamese enterprises develop smart supply chains, creating a networking environment for new partners and opportunities, and updating new information on supporting policies as well as supply and demand information for the automotive, mechanical, and electronic industries."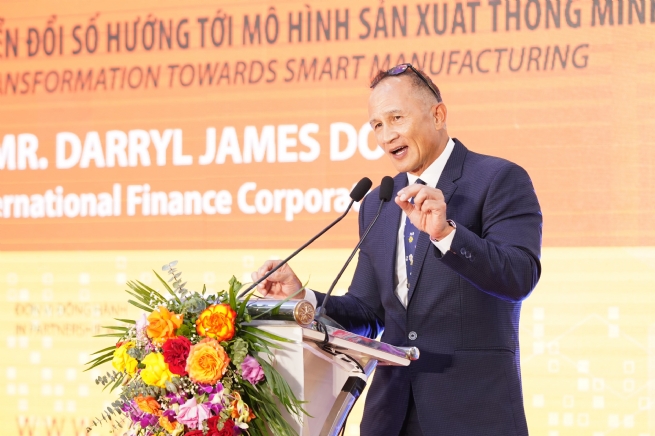 Darryl Dong, IFC's Principal Financial Specialist
"Digitalization is essential for business success nowadays. COVID-19 was a wake-up call, as McKinsey recently reported that companies that strategized digital shifts early had more success in withstanding the pandemic and improving their competitiveness by embedding themselves deeper into global value chains. Digital transformation is crucial for companies' long-term growth, sustainability, and resilience." said Darryl Dong, IFC's Principal Financial Specialist.
Also at the workshop, the participants listened to the representative of Tri Cuong Industrial Company (TCI) share their experiences in digital transformation and smart factories. The participants and speakers discussed and shared about the current situation in supporting industry enterprises as well as the difficulties and advantages in the course of digital transformation and implementation of smart production solutions. The participants agreed that digital technology and automation in all or certain steps in production and business was now an inevitable trend of Vietnam's automobile, mechanic, and electronic enterprises. In order for businesses to survive and grow, it was essential to quickly transform from traditional business methods into digital transformation and smart production, which was a long process requiring appropriate strategies and solutions.
In the current context, the degree of readiness and accessibility of most enterprises in the supporting industry to smart production was generally not high. This transformation was a huge challenge for Vietnamese enterprises when most of them were small and medium-sized and weak in both financial and human resources. Therefore, while applying the digital transformation, businesses needed financial solutions, human resources, support of a pioneer and reliable digital transformation solution vendors, and also needed institutional and implementation support from State regulators to facilitate enterprises' digital transformation process, development of high-performing smart production, contributing to enhancing positions and brand name of Vietnamese textile and garment enterprises in the domestic and international markets.
H.Ly (Vietnam Business Forum)